Sweet Sixteen Party Themes
Seasonal & Special Events Ideas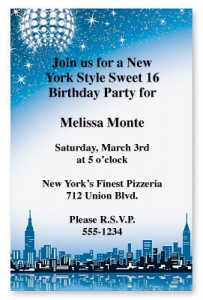 If you've seen the television show, My Super Sweet 16, you know that some parents throw extremely extravagant and very expensive parties for their teenage daughters to mark the special occasion of turning sixteen. These parents are usually very wealthy, however, and the parties are just not very realistic for most parents' budgets. If you are planning a sweet sixteen party for your daughter, you can host a wonderful party on a reasonable budget. It just takes some research and shopping around to find good deals on venues, food and drink and party decorations. Here are some sweet sixteen party themes and ideas for those of us who cannot spend millions or even thousands on our daughter's big day.
One popular sweet sixteen party theme is a dance party. Most kids that age love to dance, and if you hire a talented DJ who knows what teenagers like, your party can be a huge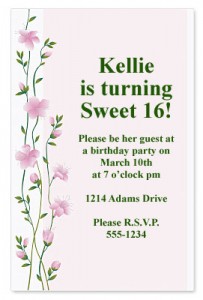 success. You have to make sure the venue you choose has a great dance floor area and good acoustics for the loud music that teens love. (You may want to warn the chaperones to bring their ear plugs though!). You can decorate the dance party with neon and glow in the dark party decorations.
Choosing a specific type of dance party will make things a bit more interesting. For instance, if you choose Dance Party 80's style, the kids can dress up in 80's clothing and the music can be the wonderful music that only the 80's could give us. The 70's disco era would make a fun sweet sixteen party theme, as would the 50's with poodle skirts, leather jackets and music you'd hear on shows like "Happy Days." You will find that talented disc jockeys have collections of music from all decades, and when you meet with the DJ you can explain what you have in mind, and he/she will make suggestions.
Another sweet sixteen party theme is a formal ball. Some kids may not be thrilled with the idea of dressing up in formal wear (as prom may be right around the corner), and a formal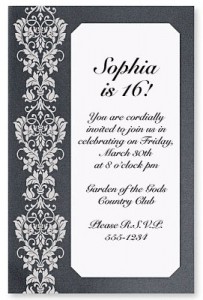 ball may require most of the kids take dance lessons so they're able to dance more formally like the Waltz and the Tango.
Another sweet sixteen party theme is a black and white party. This is an easy one to organize as everything will be decorated in black or white, and the kids will all be dressed in black and white. Music for a black and white party can be anything your sixteen-year-old wants and does not have to match the theme of black and white.
PaperDirect is your one-stop online source for party invitations, thank you notes and party accessories.