15 Cheap and Hilarious Employee Recognition Ideas
Recognition & Motivation Ideas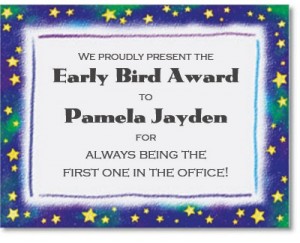 Honor employees for their unique contribution to your firm with a lineup of cheap and hilarious employee recognition ideas. Order a batch of blank certificates and print up a passel of awards that hit a high note for their accuracy and humor.
Early Bird Award: The early bird is always at his or her desk way before you even walk in the door. Give the most consistent one a nod for such early-morning vigor.
After-Hours Award: Don't forget the worker who is always still plugging away at work long after you leave for the evening.
Coffee Bean Award: This nod is for the employee who is always chugging away on the most cups of coffee per day.
Take 5 Award: Here's for the employee you're most likely to find in the lunchroom, lounge or otherwise on what may seem like a perpetual break.
Grindstone Award: Hardworking, no-nonsense and churning out results like a machine, the employee who merits this award may need a lesson from the Take 5 recipient.
Avalanche Award: This honor goes to the person sitting at the messiest desk in the office, the one with piles that appear about to fall over.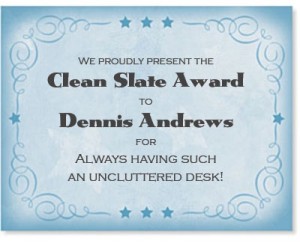 Clean Slate Award: Then there's the desk that is so organized and squeaky clean youcan probably see your reflection in it.
Chatterbox Award: Whether it's office gossip, reality TV gossip, vacation plans or random trivia, the ever-talking chatterbox has probably discussed it.
Scout Award: Here come honors for the good deed king or queen, who is always going out his or her way to help someone out.
Pay it Forward Award: The person with a penchant for forwarding silly emails gets this nod.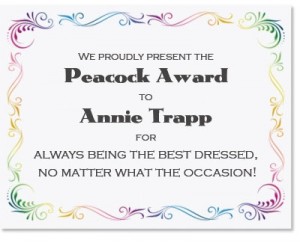 Peacock Award: Even though your office may have a dress code, one employee probably stands out as a fashion plate who consistently makes an original statement.
Podium Award: This is for the worker who loves to hop on a soap box or is especially smooth with speeches.
Ghost Award: This employee is rarely at his or her desk and, in general, least likely to be seen.
Supply Chain Award: Then there's the worker who always seems to need a stapler, tape, a hole punch or yet another batch of paper clips.
Keep these employee recognition ideas light and fun, reminding all that company culture thrives on variety. And, boy, do your firm's employees deserve it!