Team Building: How to Throw a Mini Golf Masters Tournament
Uncategorized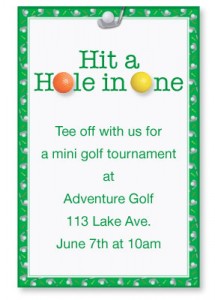 You probably don't have any professional golfers at your workplace, but you may have some aspiring ones. Even people who don't know a thing about golf can get into mini golf, so put together a fun team building activity with a mini golf masters tournament. You'll need to think about several aspects in order to throw a mini golf tournament that the whole office will enjoy.
Planning & Invitations:
Pick a day at a sunny time of the year for your mini golf tournament and call a local mini golf course to reserve it for your company. Then pick out themed golf invitations to let everyone know about the tournament. Divide employees into groups and set a tee time for each group, separating them by five minutes to allow time to play without pressure from the next group.
Food & Drink:
Stick with your golf theme as much as you can for the food. Make personal-sized mini cheese balls that look like golf balls and serve them with crackers. For a sweet treat, dust cupcakes in green sprinkles or coconut flakes dyed green to make them look like they're covered in grass. If you want to serve a full meal, "club" sandwiches are an easy idea that fits the theme. For beverages, have plenty of water and label a pitcher of iced tea as sweet "tee" for a fun play on words.
Prizes: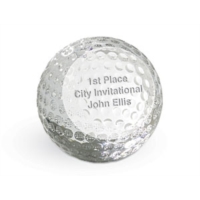 Have a scorekeeper in each group, and when everybody is done, compare scores to see who your winners were. If you have a tie, follow the Masters tournament rules and have all tied players play the 18th hole in a sudden death playoff. Any players who are still tied go back and play the 10th hole. Tied players continue alternating between these holes until a winner emerges. Get a custom engraved golf ball paperweight for the winner and certificates for the runners up.
Throughout the event, focus on having fun and creating a space where employees can get to know others in the office who they don't typically work with. Getting everybody out of the stress of the office is an ideal way to build relationships and help you all come back into the office refreshed and ready to work together.