Wedding Websites: The Good, The Bad and The Ugly
We all know that planning a wedding can be overwhelming.
After all, there are hundreds of choices to make, from the dress to the decor and everything in between. One thing that technology has made easier is organizing your event through wedding websites.
We have taken a peak into four big-name wedding websites and reviewed them for ease of use and features. Read on to see how yours stacked up!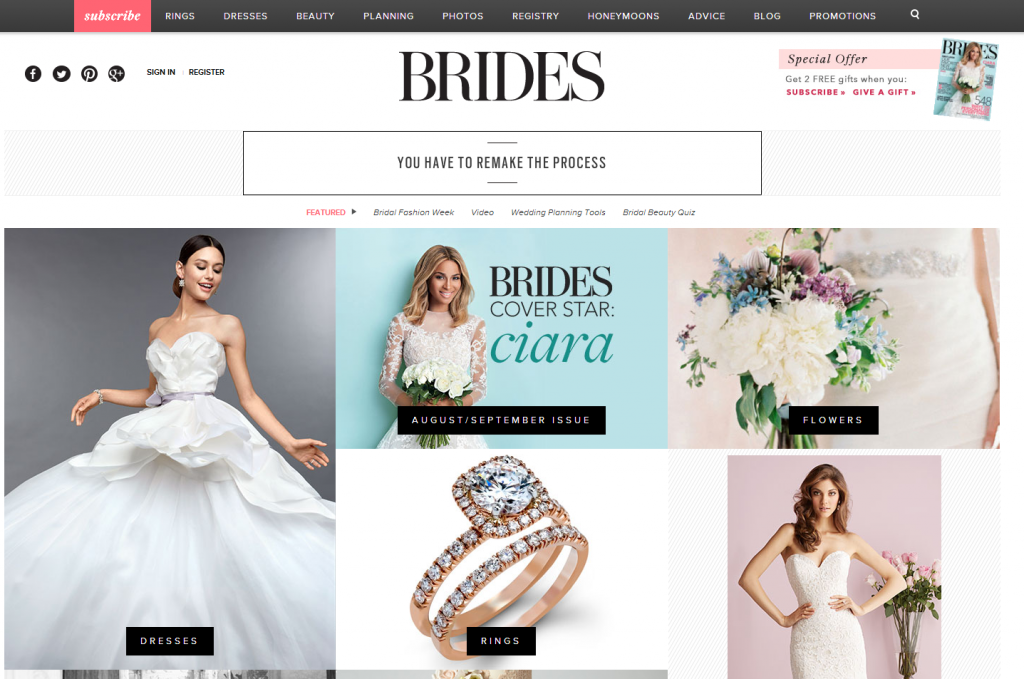 The online presence of the successful "Brides" magazine offers an abundance of information for brides-to-be. This site is massive and offers a wide range of categories, including dresses, rings, real-weddings, celebrity weddings, cakes, general advice, honeymoons, wedding planning, photos, registry and even a blog.

Tons of information, ensuring every bride-to-be can find something that will interest her regardless of her tastes. In addition, within each category are helpful features that can transform even wedding novices into wedding experts.
For example, under the wedding dress category, there are several subcategories revealing galleries of dresses in various styles such as ball gowns, mermaids and A-lines. Another gallery shows common necklines including strapless and v-neck.
In addition to the galleries showcased, Brides.com also includes applicable articles within each subcategory. For example, in the dress category, articles such as "The Top Wedding Dress Trends" and "How to Find the Perfect Wedding Dress for Your Body Type" are just a few examples of the types of articles found on this site.

There isn't much not to like about Brides.com. However, the shear volume of information can be overwhelming, especially for those brides that tend to not do well with too many choices.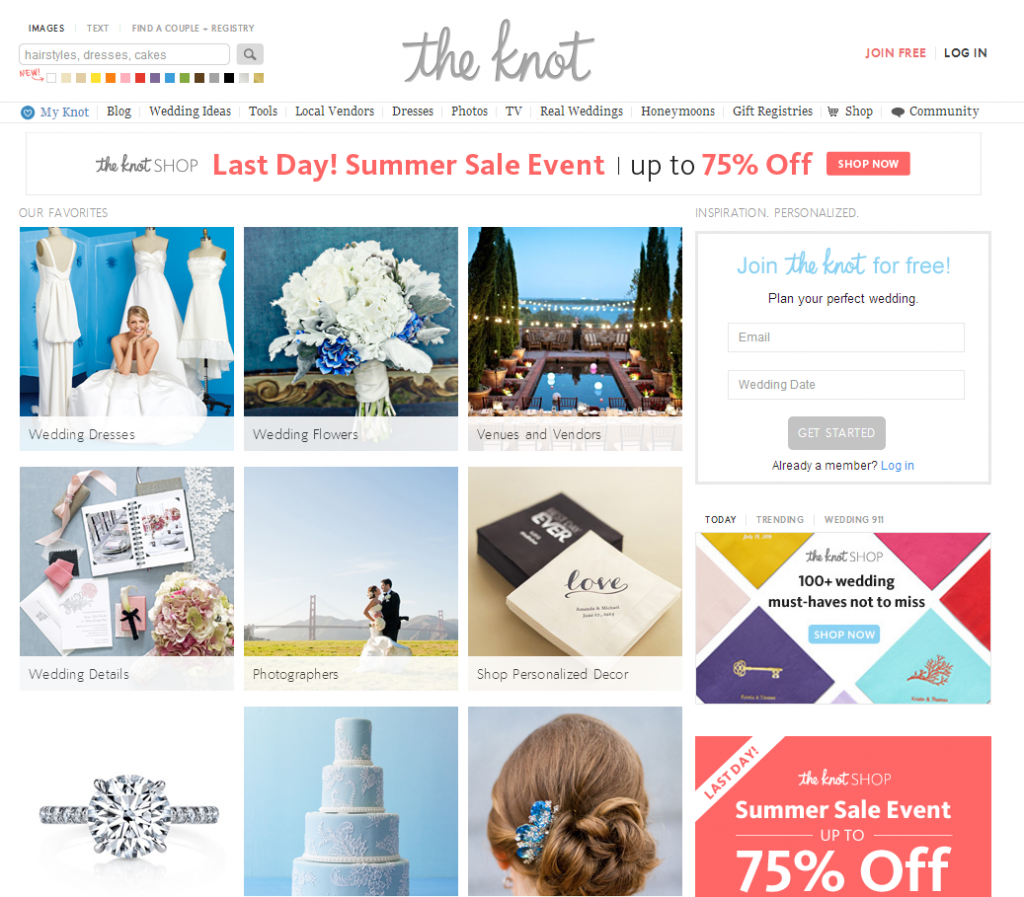 The knot is yet another excellent site for the bride-to-be. It includes many categories, including a blog, wedding ideas, dresses, photos, real weddings, honeymoons and many other features. Their motto, which is simply "Inspiration. Personalized" exemplifies what this site is all about, teaching brides how to create a wedding unique to them.

This site includes interesting advice on hair styles, perfect for the big day, and includes tips on how to accessorize with jewelry and how to create the best invitations.
In addition, there is a feature that links to actual products in the "knot shop," which are mentioned on the site. Some of these are ideal for low-budget weddings or for those who do have the budget but love to save money where they can. Therefore, this feature is especially helpful and not as common on other wedding sites.

There is really nothing of note that stands out as a negative pertaining to this site.
The two sites listed above are just two of the many sites that are out there, perfect for planning a dream wedding.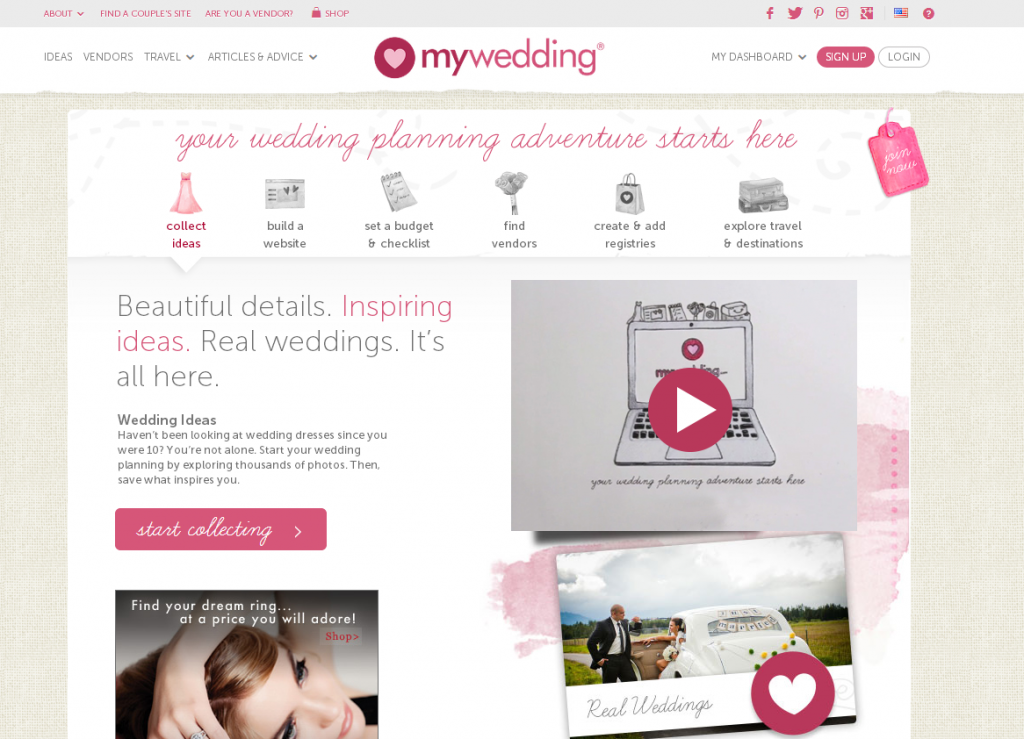 This site is a bit different from the other two previously mentioned in the wedding website reviews piece. Instead of being formatted like an online magazine, it is more a planning guide site. The motto, "your wedding planning adventure starts here," which is placed prominently on the front page, says it all.

This sites offers a wide range of options for brides planning their big day and does so in a techie manner. There are several categories to choose from, including information pertaining to setting a budget and creating a wedding checklist, and shares how to construct and add registries, offers help finding various wedding vendors, gives help in regards to choosing a destination for weddings and honeymoons, and finally helps couples build a personal wedding website.
Designing a personal "wedding website" is a recent trend for tech savvy brides and grooms. This site, which is constructed by the engaged couple, keeps family members appraised of wedding plans and can even offer them the opportunity to contribute to the wedding budget.
Some couples even use it as a means of inviting wedding guests. However, at Paper Direct, we still feel printed invitations are a must, but adding an online invitation with information for family is a great addition to a standard invitation.

There are many ideas on this site; however, it does not go into great detail for specific tasks. For example, there are wedding dress ideas but no articles on how brides can choose the ideal dress for their body types. In addition, if a couple is not tech savvy, they likely wont appreciate many of the site's features.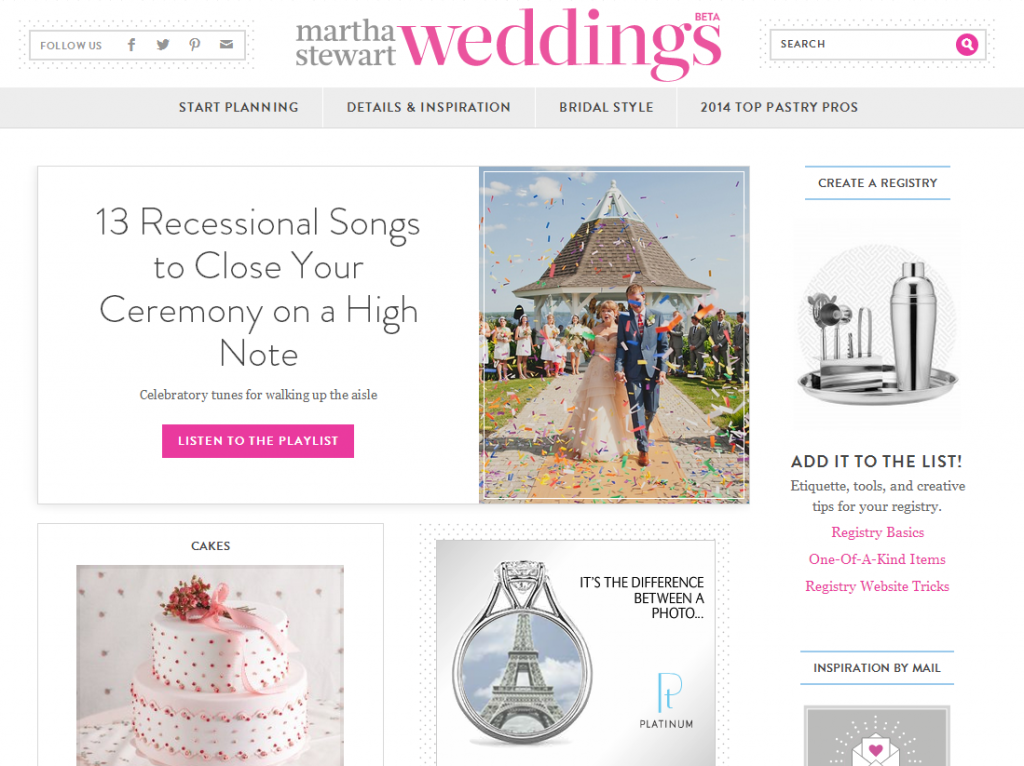 Any wedding website created by the queen of event planning is sure to be packed full of valuable information and contain scores of creative ideas, and this site lives up to that expectation.

Of course, being a Martha Stewart creation, this site is full of do-it-yourself ideas for wedding decor such as how couples can make their own wedding favors or their own center pieces for reception tables and even offers tips to teach brides how to make the most of their big day.
Categories on the Martha Stewart site includes sections about flowers, bridal gowns, beauty tips for the bride, information on choosing venues and how to create registries. In addition, Martha adds an etiquette category, which is often overlooked in today's society, but is still important when planning a wedding. The site also contains an abundance of articles explaining each category in detail.

If engaged couples are not the do-it-yourself type, they probably won't appreciate all the many features on this site. In addition, anyone who doesn't fit in the traditional bride mold, such as someone who doesn't care about etiquette or how things "should" be done will not benefit as much either.
Once you've chosen a wedding website, browse Paper Direct's selection of wedding invitations, place cards, programs and more. Happy planning!