11 Fun and Lighthearted Christmas Messages for Clients
Marketing & Sales Promotion Techniques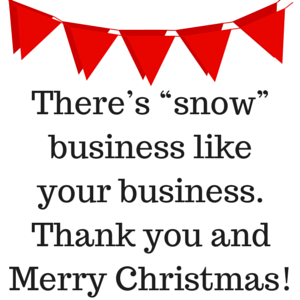 It's the merriest time of the year! And what better way to brighten your clients' holidays — and let them know how much you appreciate them — than by sending a personal Christmas card?
A formal, elegant card is always a good (and safe) choice. But if your business is known for being more fun than formal, you might want to opt for something a little more whimsical.
Of course, the sentiment is just as important as the design, and it's a good idea to match its tone with the overall feel of the card you choose.
Here are a few jolly ideas to get you started:
Keep calm and merry on.

May your holidays be filled with love and laughter.
(Eggnog really helps with the laughter part.)

Here's hoping you still have plenty of jingle in your pocket after the holidays are over!

Happy Ugly Sweater Season!

Wishing you a cool yule!

Sending you laughter and cheer
Throughout the year.

There's "snow" business like your business.
Thank you and Merry Christmas!

Don't worry. Santa told me you're on the nice list this year.

Dashing through the snow
To wish you a very merry Christmas!.

You make us merry all year long.
Thank you for your business!

This holiday, may your Christmas tree lights be tangle-free.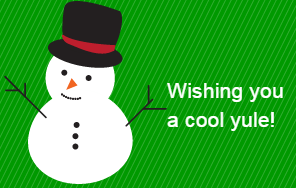 You're invited to use one of these sentiments verbatim or as a jumping-off point for your own creativity. But whatever you do, don't pass up the opportunity to send your clients something memorable. Going the extra step to mail them a little "cheer in an envelope" will make them feel appreciated, keep you top of mind and create loyalty year-round.
And whether you decide to go sophisticated or fanciful, with PaperDirect's extensive collection of personalized Christmas cards, you're sure to find exactly what you're looking for!