6 Fun Fonts for Your Correspondence
Designing Your Business Communication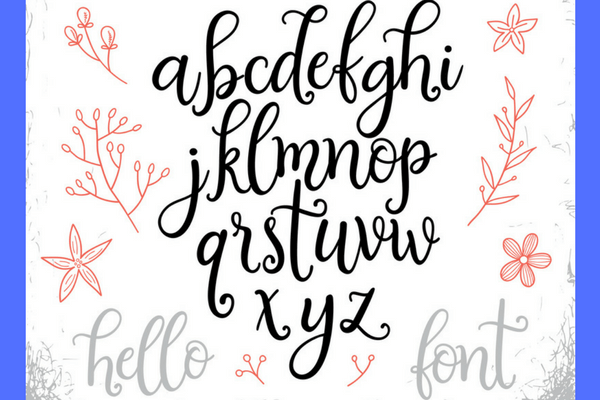 Whether you're sending out a mirthful marketing promo to customers or a lively letter to a friend, you can spruce up your correspondence with fun fonts. While you have dozens of fun fonts from which to choose, we narrowed it down to our favorite six fun fonts that met our strict criteria. That means the fonts must be readily available, make a delightful statement, exude a certain mood, and, no matter how much fun they were, still be legible to the reader. Ready?
Algerian
Algerian is an eye-catching and delicately ornate font that gives off a boldly classy vibe. Best uses are for headers, subheads, or otherwise making a bold declaration within your correspondence. Because this font is in all caps, you don't want to use it throughout your entire message unless you want it to appear as if you're yelling at someone. Algerian is A-OK for both work and personal uses.
AR Christy
AR Christy is a block-style, quirky font with a polished edge, reminiscent of something your little sister might write after 12 years of script practice. Both easy on the eyes and warming to the soul, AR Christy could be used anywhere throughout your correspondence. Its quirkiness may not be aligned with some businesses, although the font would get a green light for both work and personal use.
Bradley Hand ITC
Bradley Hand ITC is a light, fluffy font that gives off a playful vibe. Bradley can definitely be used for the main body text of correspondence, as long as you pick a contrasting background that keeps the font easy to read. Ideal for poetry or personal letters, Bradley would only be suited for work correspondence if your company had a highly casual and personable brand.
Chiller
Chiller is kind of creepy in an endearing way, sort of like a plush zombie toy or a vampire doll with flowered wings. This is one of the fun fonts that works best for short and impactful sections of correspondence, such as addresses lines or part of a message you want to stand out from the rest. Unless you run a Halloween shop, you might want to stick with Chiller for personal use.
Harlow Solid Italic
Harlow Solid Italic gives off a retro vibe, and it reminds us of vintage neon signs proclaiming something cool and classy is right inside. It could work for the main body of text as long as your paragraphs are fairly short. It would also be ideal for short, chunks of information, such as instructions or a detailed list. Streamlined and elegantly neat, Harlow Solid Italic would be suitable for both work and personal uses.
Ravie
Ravie is a super-bold, spectacularly fun font that makes a striking statement anywhere it may roam. Like other bold and bawdy fun fonts, Ravie works best in smaller quantities as headlines, subheads, or short portions of text you want to emphasize. The font exudes a playful yet important mood, perhaps like a winner-takes-all game of gin rummy, and is ravishing for both work and personal use.
Fun fonts are awesome, sure, but they're also only one part of the equation when it comes to effective correspondence. The words you use are extremely important, of course, as is the stationery you choose. Match your fun fonts with an equally fun selection of stationery, with creative border papers, postcards, and invitations from PaperDirect.