15 Employee Appreciation Quotes to Help You Say Thanks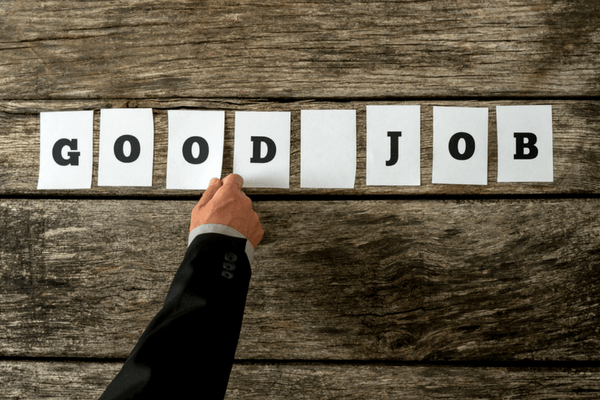 Even if your employees are superstars who bring 100% to work every day, it can sometimes be hard to find ways to express your gratitude for all their hard work. Whether you're writing a thank you card or email, use one of these employee appreciation quotes to start off the note.
People make the difference. And one of those people is you. 

Thank you for making a difference in our company.

Let us be grateful for t

he people who make us smile, t

he people who make work fun, and t

he people we can count on t

o get the dang job done! 

Your hard work and creativity is appreciated by all! Congratulations and hope we have you for many, many more years to come.

Attitudes are contagious, Bob Moawad said. That may explain why everyone around your desk is perpetually infused with dedication and enthusiasm. 

Thank you for being you!

You're a rockstar! Thanks for bringing the energy to the office every morning at 8am.

"A pat on the back is only a few vertebrae removed from a kick in the pants, but is miles ahead in results." – Poet and author Ella Wheeler Wilcox. 

Consider this one big pat on the back!

Employees like you can even make Mondays a joy. 

Thanks for your hard work and super attitude.

When we need things done right, we don't need to do it ourselves. 

We just need to give it to you. 

Thanks for your great work!

"Complaining is finding faults. Wisdom is finding solutions." – Ajahn Brahm. 

Thanks for continuously being wise!

If desks could talk, yours would say "Ouch." 

Thank you for your very hard work!

We appreciate you for more than just your work. We also want to celebrate your character and positive effect you have on others. Congratulations!
[NAME] is such a joy to work with.  Every interaction is a positive one and I know he/she has big things ahead of him/her.
You. Do. Great. Work. You deserve a huge thank you from the entire office. Thank you!
[NAME] is probably the most positive person I know. Even when you're not supposed to be positive, like a hurricane is about to hit or something, he/she somehow remains positive. This positivity adds so much value to our entire team. Thank you for what you do!
[NAME] has the perfect combination of a personality and an ability to provide the best client work. Congrats on 2 years
The great things about these employee recognition quotes is that you can announce them aloud to the entire office or discretely send anniversary emails. Better yet, write these on employee certificates and present them at the end of the year. Simple appreciation can improve retention an overall satisfaction!