As we sit in our pews every week, looking at the church programs we were handed when we walked in the door, we rarely expect more than a list of what's going to occur during the service. Plus, there's usually a list of other events for the next week and a prayer list. Sometimes there's an attendance list and offerings from the previous week on the other page as well. But rarely do we expect the bulletin to look "great". It's a source of information for those in the congregation who show up for Sunday services. But there's no reason we can't make church programs that look great, and having them look great may actually bring more interest in what it has to say.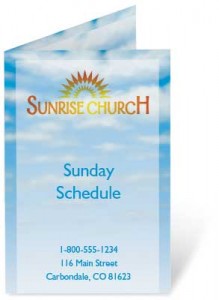 Church programs have always been bland pieces of paper with information in it. The front and back usually has a plain picture on it with the church information, but other than that, it's usually a very plain affair. But with the blank programs available and with your favorite word processor, we can make church programs that don't have to be plain or boring any longer.
There are lots of great program blanks available with a wide variety of themes. This means you can actually have a different program for every week without having duplicates. Plus, for special occasions like Easter and Christmas, there are church programs especially for those. To simply things, there are templates you can download for your word processor that makes setting up the programs a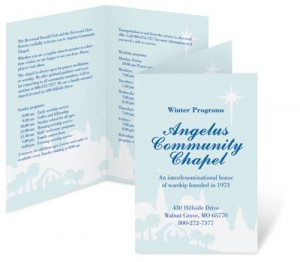 breeze. No longer do you have to fiddle with how things look until its right, just fit everything in the templates and you're done.
Let's face it, congregations get used to things being one way, and church programs are one of the things that they rarely expect to change. But with a few minutes of time and some great blank program stock, you can make a change that will impress everyone in the congregation. You'll be amazed at how easy it is to set up and print off your new church programs, so take a look at all the great programs available.