Unique Ideas for Elementary Student Awards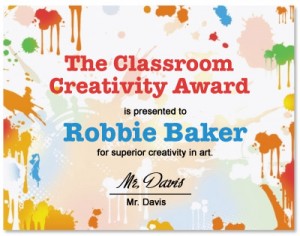 Do something new and creative this year by awarding your elementary students with unique student awards. Here are some unique ideas for elementary student awards:
Math Whiz
Historian
Kickball champ
Future Picasso
Rocket Scientist Award
Best Line Leader
Best Handwriting
Fashionista Award
Harry Potter Award (for anyone who truly loves Harry Potter)
Mr./Miss Congeniality
Class Clown
Grammar Master
Reading Rockstar
Tetherball/ Wallball champ
Didn't Miss a Thing (attendance)
Mascot Award
Little Einstein Award
Future Pop Star
Rising Star
Best Dancer
Most Likely to become President
Next Stop: The NFL
Soccer Star
Olympics Bound
Smile Award
Best Sense of Humor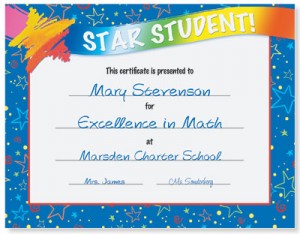 Hopefully one or more of these awards made you think of a specific student. Receiving these fun awards are sure to boost confidence and morale in the classroom and are a great way to end of the school year. Purchase quality certificates from PaperDirect and show your students what rockstars they really are.