How to Create Church Programs That Look Great!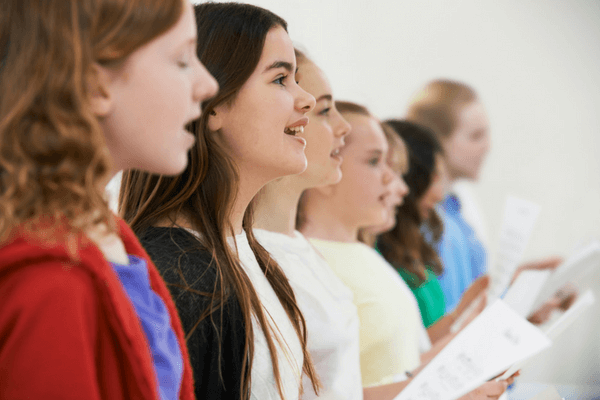 As we sit in our pews every week, looking at the church programs we were handed when we walked in the door, we rarely expect more than a list of what's going to occur during the service. There's usually a list of events for the next week and a prayer list. Sometimes there's an attendance list and offerings from the previous week on the other page. But rarely do we expect the bulletin to look "great".
Typically, a program is a simple, maybe "dry" source of information for those who attend Sunday services, but there's no reason we can't make informational church programs that look great. Giving your church programs a bit of flash can do wonders for your service.
Program Options:
Church programs have always been bland pieces of paper with information in it, but with Designed Programs and Specialty Programs available and your printer at your church, we can make create elegant church programs for any service or special event.
View all programs options here
The best thing about the above programs is that you can download a program template, design them in Word, and print at your office. Doing this eliminates the need to go to a print shop. Additionally, if you want to change your church service rather suddenly, you didn't waste any time or money on ordering programs.
What to Include in a Program
No matter what service or event you're presenting,  there are a few key items to include in your program.
Name of Presenter leading the service
Theme of the Service
Date and Time of Next Service
How your church is contributing to the community
Upcoming Events
Things to Keep in Mind
Less is More: Don't overcrowd your church program. While there may be a lot of information needed, try to keep it short. Otherwise, your program could look cluttered.
Know Your Audience: If you're a part of a modern gathering, you can use looser language.  If your goal as a church is to stay close to traditional services, be traditional with your program text, too.
Get Technical: Include your Facebook link on your program, which will encourage people to communicate with your church and stay in the know. It is also great for increasing awareness and registration for certain events.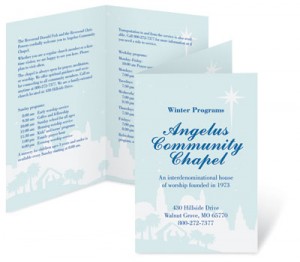 There are lots of great program designs available with a wide variety of themes. This means you can actually have a different program for every week without having duplicates. Plus, for special occasions like Easter and Christmas, there are church programs especially for those. To simplify things, there are templates you can download for your word processor that makes setting up the programs a breeze. No longer do you have to fiddle with how things look until its right, just fit everything in the templates and you're done.
Let's face it, congregations get used to things being one way, and church programs are one of the things that they rarely expect to change. With a few minutes of time and some great blank program stock, you can make a change that will impress everyone in the congregation. You'll be amazed at how easy it is to set up and print off your new church programs, so take a look at all the great programs available on PaperDirect.