Wedding Response Card Wording for DIY Weddings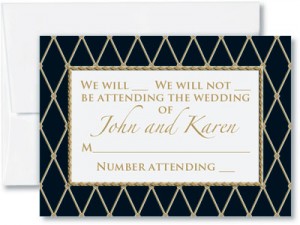 If you're in the midst of planning a do-it-yourself (DIY) wedding, you may find yourself amazed at the number of items that must be tended to, decisions that must be made, and minute details that must be addressed. Have you thought about your wedding response card wording yet? Are you not even sure you know what a wedding response card is? It's another name for the RSVP, which stands for the French phrase, "répondez, s'il vous plaît," which means "please reply." Now that you you know what a wedding response card is, let's take a look at the important issues regarding them:
When response cards are necessary
Wedding response card etiquette
Wedding response card wording
Formal vs. Casual Wedding
Most, if not all, formal weddings will have a response card inside the wedding invitation. The response card, in case you don't know, is the little card that lets the bridge and groom whether or not you'll be attending. Have you heard of "plus one"? Plus one is the phrase used when you are invited to a wedding and are allowed to bring along one guest–your "plus one." Wedding response cards are extremely important to formal weddings because the bride and groom must know how many people will be attending (i.e. eating a dinner, having drinks, and for seating purposes at the reception). An accurate "head count" for a formal wedding and reception in a must.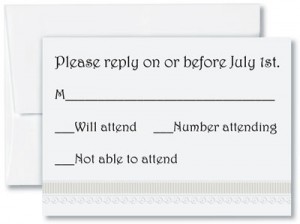 Nowadays, invitations often carry a "regrets only" notation at the end, which means that the couple will count on your being there unless you tell them otherwise.
If your wedding is casual, a phone response may be all you need or even an email. If you're not planning a sit-down dinner, are not providing free alcoholic beverages and have plenty of seating for everyone you invited, it's not quite as crucial to have an exact head count for your DIY wedding.
Wedding Response Card Etiquette
The enclosures included in your wedding invitations do more than just help you keep track of how many guests will be attending your special day. That is why wedding response card etiquette to wedding reception card etiquette is so important. Enclosed within the invitation, the wedding response card is always sent with a stamp affixed to a self-addressed envelope. This helps to ensure that you get an accurate count of the number of guests expected to attend. Wedding response cards will also include the guests' meal preferences so the precise amount of food and drinks is ordered.  wedding reception cards also are good if you are inviting more guests to the ceremony than the reception. In this case, these cards are inserted into the invitations of only certain people.
In addition to wedding reception cards, map and direction cards should also be printed and included if since some guests may not be familiar with the area where you're holding your ceremony. Be sure to include these along with the wedding response cards; if money is an issue, you can cut corners by providing directions in some other way (via email perhaps).
For the guests, be sure to respond by the date indicated on the card. If you don't respond, the couple will be forced to call you to verify your attendance, which just adds to their already huge "to do" list. The first thing you should do after receiving a wedding invitation is respond promptly because so much is riding on whether or not each guest is attending. Everything from seating arrangements to placing the liquor order, depends on how many people are attending. If an RSVP card is enclosed, feel free to add a more personal note of congratulations or explanation of regret. If a blank reply card is enclosed, you must write a response on the card in language that is similar to that of the invitation–formal or casual.
Wedding Response Card Wording
There really is no right or wrong wording for a response card, but there are traditional "guidelines" you may want to follow; the easiest way to explain how wedding response cards should be worded is to provide examples here. The same basic elements appear in most wedding response cards:
Request Lines
A "please respond by" line is typically included on every response card, though some brides may choose not to include a date on their card, as they feel it might insult guests who know very well when to reply. The request lines may be in either the first two lines of the reply card or in the lower left-hand corner. Most brides ask that their replies be r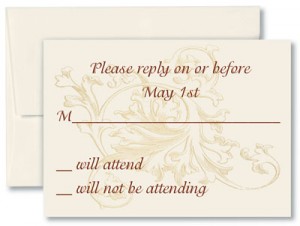 eturned 2 weeks before the wedding date.
Guests' Name
"M" followed by a line for the guest to write in their name(s), should be sufficient in most cases. If your parent(s) and or the bride and groom are doctors, you may wish to omit the "M" as many of your friends will likely also be doctors, as such the "M" will not apply, as they will be using their professional title.
Guests' Response
The most common response line format is to have the word "will" separated by a line for their response followed by "attend". You may also choose to split the Guest's response line into two lines. "will attend" will be preceded by a line for their response, on the line beneath it "will not attend" will be preceded by its own response line. Either way is considered proper.
Here are some PaperDirect blogs that may help to address some of your other DIY wedding questions:
Also, remember to view PaperDirect's extensive line of DIY wedding necessities. We are your one-stop online shopping source for DIY wedding supplies.