6 Unique Ways to Frame Your College Graduation Diploma
Uncategorized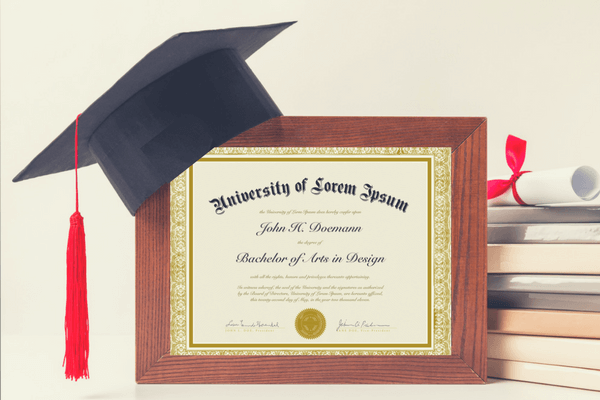 Congrats! You've donned your cap and gown and been awarded your official college diploma. Now, it's time to show it off. Whether it's at home or the office, these college graduation diploma frames and display ideas are sure to turn a few heads.
Showcase It in a Shadowbox
Preserve several memories of your college years in a shadowbox. The thick casing makes it possible to hang award ribbons, lapel pins, honors cords, sashes, medals, and other mementos alongside your graduation diploma. Choose a solid black felt backing, or have it customized with your college colors or to match your decor.
Decorate a Frame
Feeling crafty? Pick up a plain wooden frame and get creative. Use paint to customize the frame and glue on three-dimensional items. For example, if you went to college at a coastal university, apply seashells to the border of the frame. Were you a top athlete? Hang tournament award ribbons around the perimeter of the frame.
Display It With a Leatherette Award Board
For a classic look, slip the paper diploma into a leatherette frame. These can be hung or stand up on their own. We love the idea of standing the framed diploma on a bookshelf next to other items from college, including awards and framed pictures of friends and family at the graduation ceremony.
Mount It On an Engraved Plaque
Have you received more than one college diploma? If you have certificates for an associates, bachelors, masters, or doctorate degrees, have them all secured to a large wooden plaque so they can always be displayed together. We love the idea of have engraved plates placed under each certificate prominently displaying the years they were earned.
Mat and Frame Your Diploma
Will your college diploma be displayed in your office? Choose professional matting and framing to show off your hard work. The mat color can be coordinated with the office or business colors. For timeless appeal, black or cream are minimalist options.
Create a Collage Frame
When selecting a wooden frame, consider one that has multiple openings cut into the matting. The diploma should be prominently displayed in the main spot, then fill the smaller openings with photographs from the graduation day, the graduation ceremony program, or your graduation party invitation.
Are you ready to make your college graduation diploma stand out? Browse the certificate frames at PaperDirect for more ways to turn your document into a true keepsake!