Christmas Party Ideas for Teenagers
Christmas & Holiday Party Tips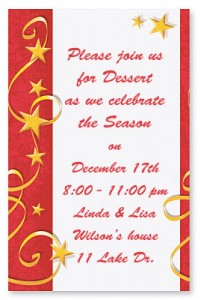 Teenagers are a tough crowd when it comes to throwing a party. Teenagers usually want to appear cool to their friends, so if you do something that hurts their "coolness," they blame you for the rest of your life for ruining their chances of being in the "in" crowd. If you are hosting a Christmas party for teenagers, there are some things you must consider before setting your plan in motion. Teenagers can also be unforgiving, so if you mess up, they may give you the silent treatment for a few days, weeks, or even years!
First of all, make sure your teenager wants a party as there is nothing more embarrassing for today's teen to be forced to attend a party they want no part of. The gesture, while greatly appreciated by most adults, may just put you in the doghouse for a while. When planning a Christmas party for teenagers, involve them in the planning process as much as possible. They know what they're friends like, and they

know what will go over successfully and what will fail miserably. Allowing the teen to take part in the planning will give him a feeling of "ownership" of the party. Remember, what may have been "hip" twenty years ago, could be at the bottom of the "cool" list in 2011 or 2012.
Christmas parties for teenagers should have a theme and decorations to match the theme. No matter where you hold the party, be sure the theme is apparent. Winter Wonderland, White Christmas, and Silver Bells are holiday favorites. If you hold the party at an ice skating rink, be sure the venue is decorated with the vibrant colors of Christmas and that holiday music plays throughout the night. But keep in mind most teenagers love to dance, so hiring a DJ is a must. Renting out a popular nightclub for a Christmas party is a great idea. Of course, no alcohol will be served, but the teenagers will have that "grown up" nightclub feel at the party. Make sure there is a large dance floor area. If teens have to stand around all night, they will get bored quickly. You must also decide ahead of time if the party is going to be casual or formal. Most teenagers would probably prefer a casual party just because formal attire and the formal atmosphere of those types of parties tend to make some teens ill at ease. You want your guests to have fun, dress comfortably and feel festive.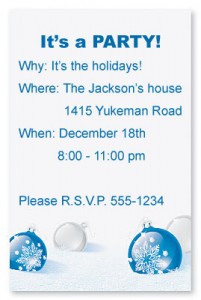 There are some activities you can have during the party. A Christmas tree can be decorated with homemade ornaments, or the teens can bring a toy or other gift to donate to a local children's shelter. White elephant gift exchanges are also fun and inexpensive. You can hire someone to play Santa but this might be considered juvenile for your mature teenagers. Maybe you can convince a small group of the attendees to go caroling around the venue's neighborhood. Most high schools have choirs and bands with very talented young singers and musicians and what better gift to bring to the neighborhood than festive Christmas music?
Who doesn't like to get a gift at Christmas time? Maybe you could buy a little parting gift for each of the guests such as a gift card to a popular coffee house or music store. The teenagers will certainly appreciate your generosity and may even donate their gift card to someone less fortunate.
Christmas party ideas for teenagers are challenging but not impossible. The best way to find out what teenagers would consider a fun Christmas party is to ask them. Wouldn't you rather have their input ahead of time, then do it all on your own only to find out you made all the wrong decisions?
Please read "Creating the Most Unforgettable Holiday Parties" for some excellent holiday party planning tips from PaperDirect. When it comes to Christmas greeting cards and Christmas event accessories, PaperDirect is your one-stop online source for everything you need!
Hiring a professional photographer will allow the guests to capture some moments from the Christmas party they can cherish forever.