6 Irresistible Baby Shower Invite Ideas
Seasonal & Special Events Ideas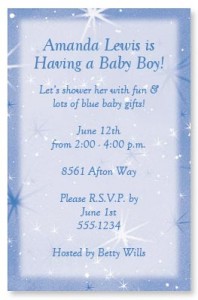 Traditionally, a few months before a baby is born, friends and family will get together and have a baby shower for the prospective mother. The person who is hosting the party is usually the one putting all the details together and sending out the invitations. Having totally cute and irresistible baby shower invitations not only lets people know that the mother is actually having a baby if they didn't know but also encourages attendance and participation. Here are some cute baby shower invitation ideas that definitely build interest:
1.    Nothing beats traditional graphics like baby bottles and rattles or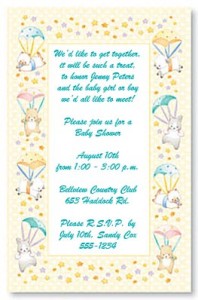 even a cute little baby drawing to get the point across that it's an invitation to a baby shower.
2.    Using a crayon scrawl font to set up the text is a neat touch.
3.    If the sex of the baby is known, using the appropriate colors is a great way to let guests know so they can buy gifts for the baby to be.
4.    Don't forget that stuffed animals look cute on an invitation as well
5.    Of course, there's the obvious. Since it's a baby shower invitation, why not have umbrellas on it. It is a shower after all.
6.    Baby shower invites that have the shape of a diaper, a onesie or even a bib makes for a cute way to invite people.
Being able to print your own baby shower invitations means you can put exactly what text you want on it. Aside from the time, date and location of the shower information, if the Mom is registered at a store, you can include that information so guests can check out the registry and see what still needs to be purchased. Plus, if there's going to be any particular theme to the shower, then you'll be able to include that information as well. With templates you can download for your word processor, you'll be able to get it looking perfect without a lot of effort at all.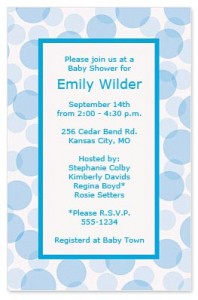 Baby showers are a great time to get together with friends and family for a happy occasion that everyone enjoys. Having a neat invitation lets everyone have a smile knowing that a new baby is on the way and gets ideas flowing about what to give for shower gifts. When planning out that great baby shower,  you don't want to have the same invitations everyone else uses so taking the time to find unique baby shower invitations ideas not only gives the guests something neat as an invite, but the Mom to be will feel extra special because of that extra effort.