Ways to Tell Your Teachers How Much They Mean To You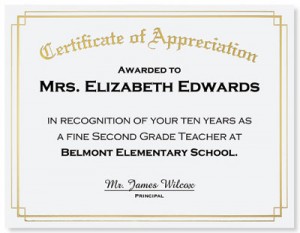 Being a school teacher is one of the toughest, most admirable professions one can choose. It's an often thankless job that requires hours and hours of work after the school day is over, evening meetings, event chaperoning, and sometimes even weekend work grading papers and preparing for the following week's lessons.
If you are a teacher, were a teacher or know a teacher, you understand that teaching is not easy. You have lives in your hands each and every day, and everything you say and do somehow impacts the students in your classroom. If you're not a teacher but appreciate the work they do, or if your child has told you how much a teacher has meant to them, there are many ways you can show your appreciation for their hard work and dedication. Let's take a look at some teacher appreciation ideas that are thoughtful and affordable.
Handwritten thank you notes
Custom designed and printed certificates of appreciation
Paperweights
Pen sets
Gift cards
Books
Coffee mugs
Tote bags
Key chains
Day planners
Feel free to come up with your own teacher appreciation ideas or use any of these. Teachers will be so thankful that their work has not gone unnoticed. Shop online at PaperDirect for teacher appreciation gifts today!