Holiday Newsletters On High Quality Christmas Border Paper
Seasonal & Special Events Ideas
PaperDirect has a large selection of Christmas border paper for your holiday newsletters this year. The Christmas newsletter is a time-honored way to stay in touch with long distance friends and family members and let them know how everyone is doing. Many families have made the Christmas newsletter a yearly tradition, and with December right around the corner, it's time to look at the various types of Christmas border paper you can order online from PaperDirect. Printing newsletters for Christmas is easy and fun when you use high quality, festive Christmas border paper that will surely brighten the holidays for all your recipients!
Here are some popular paper designs to make your Christmas newsletter especially festive this year: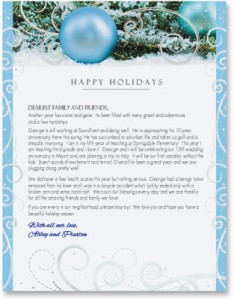 If this is the first time you've written a Christmas newsletter, you may need some tips.
When composing a letter to loved ones and friends you may not see very often throughout the year, keep your audience in mind and think about what you would like to know as a newsletter recipient. By tailoring your news to your recipient, you'll have a captive audience.  Think about who you're sending your newsletter to. What should you include in a Christmas newsletter? Possibilities might include marriage, any moves/relocations, vacations, new pets, children's news, graduations, new employment situations and any significant changes in your life. You really don't have to go into great detail–be succinct and your audience will be more interested. Highlight the year's milestones and joyous occasions.

Be positive and festive in your tone, but don't go on and on about how many wonderful accomplishments your family has experienced this year because it sounds like bragging. There is a difference between reporting good news and boasting. Be careful not to cross this line in your newsletter.

 Similarly, don't include tragic news or tales of hardship you've experienced this year. This is Christmastime, when love, warmth and happiness are the focus. The goal of the holiday newsletter is to simply update long distance friends and family about your past year, so keep it short, to the point, and fun!
Include a family photo if you like as this is a nice added touch.
End your Christmas newsletter by wishing everyone a wonderful holiday season and safe, healthy and prosperous new year!
PaperDirect is your online shopping source for Christmas border paper of many designs for your family Christmas newsletter this holiday season! Order online today.