5 Effective Ways to Promote Your Pumpkin Patch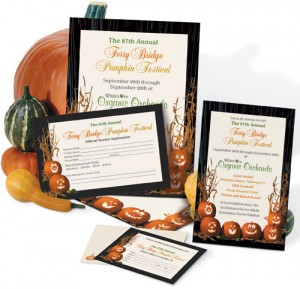 Autumn is just around the corner and with it comes crisp days, falling leaves and of course, Halloween!
As a pumpkin patch owner, your marketing window is short. Start advertising too soon and customers might forget by the time they're ready to buy. Advertise too late and they may visit a competitor.
Plus, like most small business owners, your hands are already full with many other tasks. So effective, cost-efficient, and low-stress advertising is a must.
Luckily, with a little planning and a few simple and fun marketing strategies, your patch will be the one everyone flocks to!
1. Reach out to moms' groups, schools, and daycares.
Contacting groups that cater to kids is a smart use of your marketing dollars. Create impactful but inexpensive flyers using festive seasonal papers with matching envelopes. Or opt for colorful postcards in oranges and yellows.
Be sure to handwrite the addresses and use a real stamp; these methods have been shown to increase both open and response rates.
2. Host family-friendly weekend events.
What mom or dad isn't looking for a low-cost, wholesome activity to keep the kiddos entertained? In addition to increasing sales, these events will garner you the everlasting gratitude of frazzled parents everywhere.
Depending on your budget, make it as large or small as you like. Sack races, bobbing for apples, a bounce house and face painting are always big crowd pleasers. And don't forget the hot cider!
3. Partner with a nonprofit.
Most nonprofits are eager to team up with local businesses to raise much-needed funds. Consider hosting a "Pumpkins for Charity" day and donate a portion of the proceeds to your favorite nonprofit.
Organizations that assist children and/or families are logical choices. With their help, you'll reach more people than you would alone, and at the same time, create buzz and goodwill within your community.
4. Sponsor a pumpkin carving or painting contest.
Again, partnering with another organization will help cut costs and expand your reach.
Approach a local grocery store or keep an eye out for fall festivals in your area. Provide supplies and allow individuals to enter for the cost of a pumpkin. And bystanders will appreciate coupons and flyers.
5. Promote with big, colorful vinyl banners.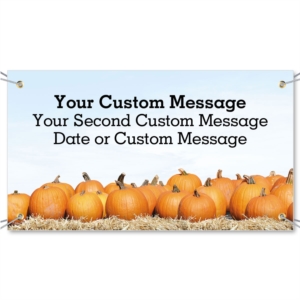 Whether you're advertising an event or just driving passers-by to your patch, fall banners are the way to go. Scout out a few choice spots around town to display your banners. For added impact, come up with creative ways to hang them.
For example, hay bales or scarecrows are a sure-fire way to attract even more attention.
PaperDirect has a bounty of seasonal papers and banners that can help you carve out a tidy profit this fall! Come see them all at PaperDirect.com.