Wedding Invitations – Response Cards and Their Wording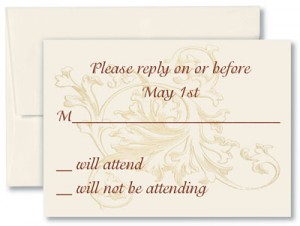 Weddings take a ton of planning and making changes to plans in order to have the wedding come off exactly the way the bride wants it to. This means attention has to be paid to every detail along the way. Perhaps the most important part of the wedding planning is the invitation because that is often the first indication to potential guests that the couple is getting married. And, a lot of planning is going to be based off of how many people are actually going to show up. That's where the RSVP, or wedding invitation response cards are vitally important.
Including RSVP cards (RSVP is actually short for the French phrase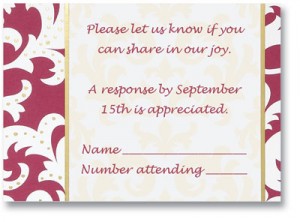 'respondez sil vous plait' which translates into English as 'respond if you please') with the invitation including a self addressed, stamped envelope will give you the knowledge of how many people are going to be at the wedding and reception. This helps planning immensely because you'll know how many wedding programs you'll need, how much food to have on hand and how large of a reception hall you'll need.
In order to have response cards returned, you have to make it as easy as possible for the potential guest to send it back. While there's not a 'correct' way to word a response card, there are lots of ways to determine if the potential guest is coming and how many will be in their party. Any variation of this…
The favor of a reply is requested by July 1, 2011
M____________________
(_) Accepts with pleasure and will have ____ in our party
(_) Declines with regrets
… will work quite well. The date needs to be far enough in the future to give them time to respond comfortably, but leaving plenty of time to finalize plans for food and other accommodations for the guests.
By including the SASE, you're removing one more barrier that can keep people from responding. It's easy enough to say "I'll send it in, but I have to get an envelope and a stamp" and forget to do so. By including the SASE, all they have to do is fill out the card, stick it in the envelope and drop it in the mail.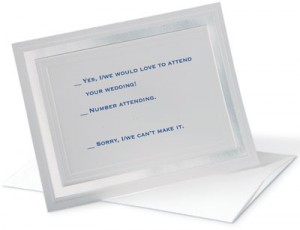 There are lots of great invitation and matching response card blanks available so you can make your own and word it exactly how you want. With all the great blanks available and the matching templates for your favorite word processor, you can create exactly the invitation you want and the RSVP card as well. Not only will this save you money, but it'll save you time and help your wedding planning as well. Check out all the great designs available. You'll definitely find at least one you'll fall in love with.