Door Hanger Marketing – Does It Work?
Marketing & Sales Promotion Techniques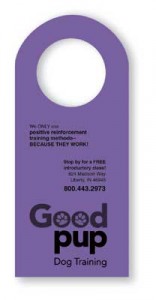 You know exactly what door hangers are. You've come home from work and had one hanging on your door, usually from the local pizza place, maybe from a church inviting you to attend or even from a local store running a sale. Sometimes you get a door hanger that has a sample product in it like cologne or even laundry detergent. Door hanger marketing is a very powerful tool and more and more companies are turning to it to boost their sales.
Door hangers have a lot of potential in a lot of different ways. Aside from the sample packs in hanging bags, simple door hangers can be the most effective marketing tool in your arsenal. Not only can door hangers provide a lot of information about your business, but they can be used to deliver sales incentives as well.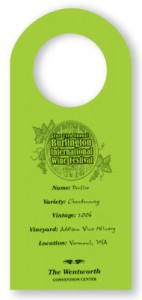 Since door hangers do have two sides, there is a lot of real estate to put information on. Not only can you put the store location, but you can put product information, sales blurbs, or even an invitation to visit the store. For instance, if you're opening a new business, running a door hanger marketing campaign announcing the grand opening with refreshments, etc. can be a very powerful way to open the doors and get the information to people that a new business is opening.
Using door hangers as sales incentives with coupons or discounts if they bring in the door hanger works in a couple of ways. One way, yo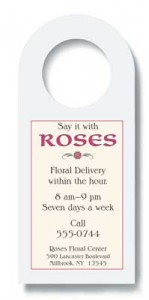 u get the person to order product with the coupon which allows you to track how many people are using it or the other way is when they bring in the door hanger, you can count how many you receive back. This gives you a great way to track just how well your marketing campaign is working.
And a campaign like this isn't expensive either. Door hangers are relatively inexpensive to start with and hiring people to canvass neighborhoods hanging them isn't terribly expensive either. On the whole, door hanger marketing campaigns are the most cost effective and easiest ways to attract customers and build business.