Examples of Wedding Card Thank You Note Wording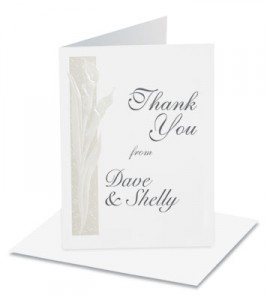 When you just have just a few short sentences to express your gratitude for a generous gift, you want to make sure the wording of your wedding thank you note is spot on. Don't get hung up on the length of your wedding thank you note. You can say what you have to say in just a few sentences, and the more specific and to the point you are, the better.
We recently published a blog about thank card etiquette and when to send thank you notes. The blog also included information about what components should be in thank you cards and suggestions for wording. Here, we will focus on examples of wedding thank you card wording only.
If you are sending a wedding thank you card to a close relative or dear friend, you can include more personal details than you would to someone you barely know. Here is one example:
"Dear Grandma Susan and Grandpa Tim,
Thank you so very much for the beautiful hand-crafted cedar chest! It looks amazing in the master bedroom and matches the rest of the furniture very well. As usual, you put so much thought into your gift and picked out something we will both treasure forever. It was nice seeing you and we can't wait to see you again at Mom's birthday party this September. Thank you again for your generous gift.
Love,
Julie and Jason"
Here is an example of wedding card thank you note wording to someone you don't know so well:
"Dear Dr. and Mrs. Anderson,
Thank you for the lovely lace tablecloth you gave us for our wedding. It was so nice to finally meet you after having heard so much about you all these years from my parents. Now I can see why they consider you their best friends. Again, thank you so much for your generosity.
Sincerely,
Jason and Julie Thompson"
Here is wedding card thank you wording when the gift is cash (you want include what you plan to do with the money):
"Dear Aunt June and Uncle Bill,
Thank you so much for the generous check you gave Jason and me for our wedding. We are going to use it to re-do the guest room into a nursery for the baby. As soon as the baby's room is finished, we'll have you over for dinner so you can see what we've done.
Love,
Julie and Jason"
Here is an example of how to word a wedding thank you note if you don't really like the gift:
"Dear Sherry and David,
Thank you so much for the velvet painting. You are always so generous, and it was so nice to share our special day with you.
See you soon,
Jamie and Jason"
PaperDirect is your online shopping source for everything you need for your Do-It-Yourself Wedding.