Fall Party Themes
Seasonal & Special Events Ideas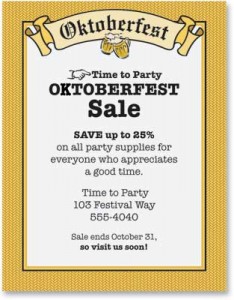 Fall is the perfect time of year to have a party because the leaves are turning colors, the air is cool and crisp, and the holiday season is just around the corner. When you are considering outdoor fall party themes, you want to keep your guests' preferences in mind and select an appropriate fall party theme based on your guests' ages and interests. Here are some fall party themes to get your wheels turning: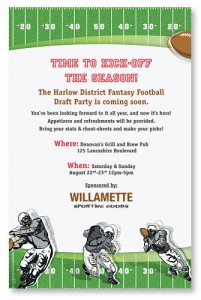 Football themed party: Men and women and children of all ages look forward to football season all summer, and hosting a football themed fall party is a great way to "kick off" college and professional football seasons. Just about every family has at least one football fan, and many families have several members who are devoted to one particular team. To get your fall football party underway, choose (or make) an invitation with a football theme. If you live in San Francisco, and you know all your guests are 49ers fans, you can buy an invitation in the shape of a football with the team logo and include all party information such as time, location, what to bring, what the theme is, whether children are invited, etc.
Fall Harvest theme: Select an Fall invitation with any one of the symbols of autumn such as colorful leaves, pumpkins, acorns, gourds, and apples. You can plan craft projects at the party or have a pie judging or pie-eating contest. You can ask your guests to bring their favorite fall-inspired food, dessert or drink to your fall party theme. You can bob for apples, roast pumpkin seeds and serve cider and cider doughnuts.
Oktoberfest themed party: Plan a traditional German Oktoberfest party for early or late October.  You'll need plenty of beer, and traditional German foods such as sausages, bratwurst, and knackwurst. Side dishes such as German potato salad and red cabbage with apples, bacon and sauerkraut will surely please even those with no German in their blood. Display the traditional blue and white diamond pattern on cups, plates and napkins.  If you want to make it really authentic, hire an Oompah band to play Oktoberfest music and allow your guests to wear costumes if they like to really get into Oktoberfest. This is one fall party theme your guests will love!
For more party ideas including spring and Summer themed parties, please read the PaperDirect blog.