Employee Anniversary Recognition: Let Your Staff Know You Care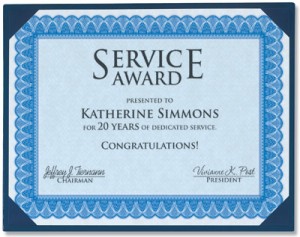 All employees remember the day they were hired, and it is important to acknowledge an employee's dedication and service to you and your company on their anniversary.
If you are an office manager who has been asked to come up with some employee anniversary recognition ideas, or if you own a business and need some ideas about how to recognize your employees' anniversaries, we have some ideas for you.
Whether it's one year or twenty years, employee anniversary recognition is crucial and will be appreciated by the employee you honor, even if it's just a small gesture.
Tips for Tracking
If you own or manage a large company, you should create some type of system to keep track of employees' hire dates. Even if you manage only a few employees, it's important to have an organized system to know the hire dates for everyone, from the mail room to the board room. Everyone's anniversary should be recognized in some way.
The easiest way we have found is to add it to a Google Calendar and mark it to "repeat every year" This will keep it from creeping up on you.
Why Yearly Recognition?
While some employees are fortunate enough to get raises each year as a way of recognition, in tough economic times, a monetary reward is not always possible to recognize an employee's anniversary. Instead, there are many other creative, inexpensive ways you can recognize an employee's service that are meaningful and will be cherished by that employee for years to come.
Recognition Ideas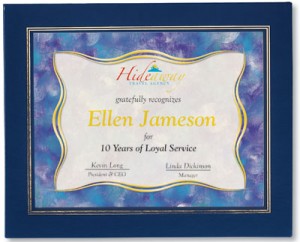 Think of an employee's anniversary as a career birthday, so make your recognition sincere, meaningful and personal.
And while employee anniversary recognition does not have to be formal and costly, it must be genuine.
A handwritten note or thank you card is thoughtful and inexpensive. Instead of sending an email, take the time to write a personal note to the employee and mention something unique he/she has contributed to the company. This is much more meaningful than a generic email that reads "Happy third year anniversary. Thanks for your hard work." Write something that will let that employee know you truly appreciate the specific contributions he/she has made to the success of your company. Employee recognition motivates and provides incentive for continuing hard work.
The Importance of Individual Recognition
Large companies often have a "group" celebration for anniversaries, but it's much more thoughtful to acknowledge an employee's anniversary separately.
On special anniversaries (five, ten or fifteen years) managers should mark the occasion with an extra special gift or recognition ceremony. It's not necessary to spend exorbitantly, but keep in mind that your employees have contributed to your success and profit.
Why not give a little back by purchasing a nice gift?
When giving gifts to employees on their anniversary, do your research. Find out what your employees' interests are such as hobbies, favorite restaurants, special talents they have, etc. This will make the employee anniversary gift more personal and will show the employee you took the time to find out a little bit about him or her. On the flip side, giving the employee a choice from a selection of gifts is a great way to keep your recognition program efficient and simple.
PaperDirect has an extensive line of recognition and motivation gifts and products. We have a vast array of award certificates, plaques and trophies for employee anniversary recognition.