Invitation Wording for A Christian Wedding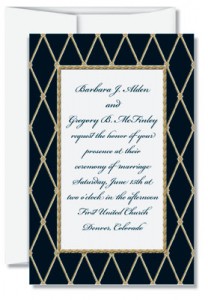 Your invitation wording is very important because it must convey the thoughts and feelings that you and your future spouse hold true. Also, the wording on your wedding invitation is something that requires thought regarding your guests because the invitation is the first impression they will have of your wedding, and many people keep the wedding invitation as a souvenir.
If you are planning a Christian wedding, you will want to include wording in your invitations that may not be found in an invitation to a less religious or less traditional wedding. If you are concerned that your guests may be put off by Biblical verses or other Christian-like additions to your wedding invitation, you must remember that this is your day–you and your spouse should have the exact type of wedding ceremony and reception that you have always dreamed about.
If Christian wedding invitation wording is something that you need help with, you have come to the right place. PaperDirect has some suggestions based on what others Christian brides and grooms have included in their wedding invitations to help get you started.
Your wedding invitations let guests know what to expect at your wedding, including color scheme, theme, and ambiance. Letting prospective guests know that religion will play a  part in your ceremony will help them decide what attire is appropriate, or they may (unfortunately) even decide to not attend your wedding due to their own religious convictions. Your Christian wedding invitation wording should reflect your personalities and your religious beliefs as a couple. One popular way to incorporate your Christianity into your wedding invitation is to include Bible verses.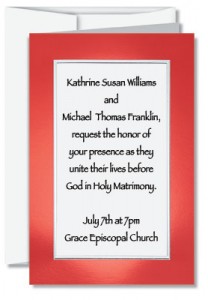 Here are some suggestions for do-it-yourself (DIY) Christian wedding invitation wording:
Design the front of your invitation by including a meaningful Biblical verse. The Internet provides hundreds of suggestions of Biblical verses that are appropriate for the wording on the front of a Christian wedding invitation or you may add a Bible verse that is a personal favorite.
When you write the actual wording include a reference to God such as the following: "Mr. and Mrs. John Doe request the honor of your presence at the marriage of their daughter, Susan Kay, to Thomas Michael Jones, when they ask God's blessing on their union and His presence in their new life together as a married couple."
Conclude the invitation with the specific church name, address, date, and time. Close with a Bible verse, if you desire. For example, "A chord of three strands is not quickly torn apart," Ecclesiastes 4:12 or "This was the Lord's doing; it is marvelous in our eyes," Psalms 118:23.
If you are in the midst of a DIY wedding, PaperDirect can help– a one-stop online shopping source for several DIY necessities including wedding invitations, reception cards, response cards and thank you notes.