Halloween Postcards Make Fun Party Invitations
Seasonal & Special Events Ideas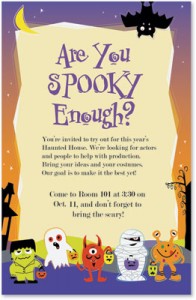 If you're looking to jazz up your Halloween party this year, try sending out Halloween postcards as your party invitations to mix things up a bit. If your friends, family or neighbors are counting on you to host the annual Halloween bash, you certainly don't want to disappoint by sending out the same old boring invitations this year. Make it simple (and save on postage) by sending out Halloween postcards for party invitations this year. If you're going the "open invitation" route, then you can use Halloween postcards as a mailer to everyone you'd like to be included in the spooky festivities.
PaperDirect has many of the party planning items you need for a great Halloween party this fall. Check out our custom print option and save time and money by designing and printing (or letting PaperDirect do it for you) your own Halloween postcard invitations today! Some of the best-selling PaperDirect Halloween postcards are: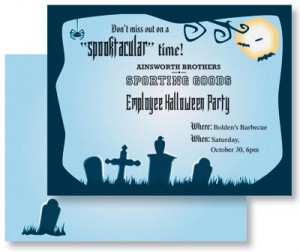 Pumpkin Parade
Haunted Hill
Spooky Lane
Fright Night
Witchy Kitty
Good Ghost
Magical Pumpkins
Black Magic
Since Martha Stewart is such a well-respected party/hosting expert, let's take a look at some Halloween games for kids (and big kids) that will keep your guests happy and entertained:
Pop Goes the Pumpkin:  A Halloween version of the classic carnival game makes a great wall decoration, too. Simply blow up several orange balloons (fill some with candy and some with confetti) and put them up on a wall with some type of backdrop to protect the paint or wallpaper. Have one adult use a stick pin or dart (kept away from the kids, of course) and have the kids guess which balloon has treats, confetti or is empty. Start popping balloons and the kids will love the goodies that come out of the balloons that are stuffed.
Doughnuts on a String: Tie a length of rope between two trees. With kids standing under the rope, tie pieces of ribbon to the doughnuts (one per player) and then to the rope so the treats hang slightly above mouth level. Have players start on the count of three. Instruct each to eat an entire doughnut without ever touching it and without letting it fall off the ribbon. The first to finish wins. The prize? It's already been eaten!
Pin the Pumpkin on the Face: Any child who has played Pin the Tail on the Donkey will be able to play this game. Cut out eyes, noses, and mouths from black construction paper. Stick a reusable adhesive, such as Blue Tack, on the back of each cutout, and give a set of cutouts to each player. Put a large pumpkin on a low table or a bench. With blindfolded players starting four feet away (little kids may stand closer), instruct them to walk toward the pumpkin and create a jack-o'-lantern face (without peeking). After each turn, take a picture of the player with the finished pumpkin.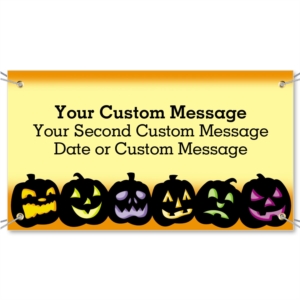 PaperDirect is your one-stop online shopping source for all of your party planning needs this Halloween. You can order Halloween postcards, creative Halloween invitations, or Halloween banners everything you need for a great party.