Writing a Thank You Note at Christmas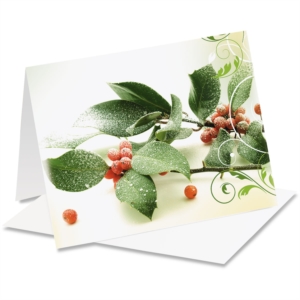 In a world where technology rules and handwritten notes are practically non-existent, there is one handwritten note that will never go out of style or become obsolete–the handwritten thank you note. There is absolutely no acceptable replacement to writing a thank you note to show your appreciation for a gift you received or a kind gesture someone did during the holidays to help you out. A phone call is nice but just isn't enough, an email is a bit of a cop out, and a text message is simply unacceptable. PaperDirect has a large selection of thank you notes at affordable prices, and the best part? You can order online and receive your thank you cards in just a few days!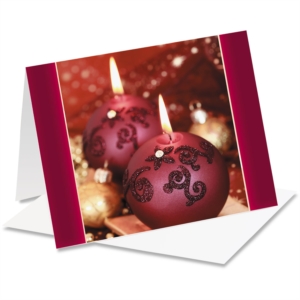 Christmas Thank You Notes
With the holiday season right around the corner, it's important to know the necessity of writing a thank you note to the person who was kind enough to give you a gift for Christmas. Writing thank you notes does not take a lot of time, and receiving a handwritten thank you note will show the gift giver that you really appreciated what they did for you.
It's never too early to teach your kids the art of writing a thank you note to show their gratitude. In fact, writing out thank you cards should be part of the Christmas routine. Sure, let the kids play with their new toys for a few hours, but before bedtime, ask them to sit down and start writing thank you notes to their loved ones, especially the ones who mailed Christmas presents from afar.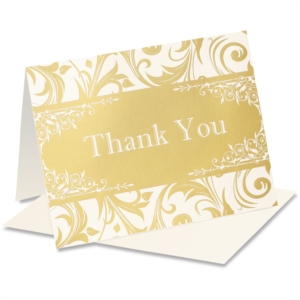 Here are some tips for writing a thank you note at Christmas:
Address the gift giver with "Dear" rather than just beginning the first sentence of the note.
Describe the gift you are giving thanks for instead of sending a generic message to all recipients; include specific details that show the gift was a memorable one. Instead of "thank you for the jewelry box," you could write, "Thank you very much for the beautifully hand-crafted gold jewelry box that will make a nice addition to the master bedroom bureau." This shows you truly remember the gift and appreciate its value.
Discuss briefly how the gift will be used. For example, "The jewelry box will make the perfect storage for my rings and bracelets that I don't wear when I sleep."
If you received a cash gift, do not say "Thank you for the cash." Instead, write something along these lines, "Thank you very much for your generosity. Your gift will come in handy when we begin the addition to the upstairs kids' play area."
Include something personal that shows your relationship to the gift giver. For example, "It was so nice seeing you this Christmas, and we're looking forward to seeing you and the kids again at Uncle John's birthday party in March."
End by reiterating your gratitude with a simple, "Thank you again for your kindness."
Shop online at PaperDirect for all your thank you notes this Christmas.