Unique Marketing Ideas for Valentine's Day
Marketing & Sales Promotion Techniques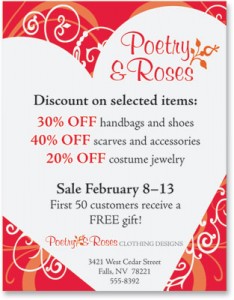 Valentine's Day is not a  just an opportunity for boyfriends, girlfriends and spouses to express their undying love for each other and celebrate their lifelong commitment to love and cherish each other til death do they part. It's also a time for businesses to show customers how much they appreciate them and offer great deals that not only say "Thanks for your patronage" but encourages them to keep coming back (and bring a long a friend or too!). And since it's the second most popular holiday (Christmas is first) for gift giving, the weeks leading up to Valentine's Day are a great time to do some aggressive, thoughtful marketing.
Valentine's Day Marketing Tips That Work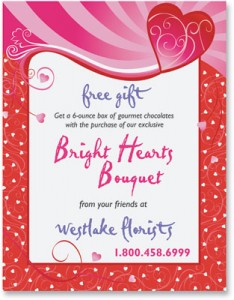 Here are some unique marketing ideas for Valentine's Day applicable to small and large businesses:
Promote love in every way you can possible think of–love for pets, family members, lovers, sports teams, cities, countries, foods, etc. You name it! Use love as a marketing tool this Valentine's Day to get customers to your door and/or to your website.
Offer couples coupons, which require two people to be present to buy or require two items be purchased. You can offer a special buy one get one at a discounted rate or buy one and get the other free.
Day spas, hair salons and other "pampering" types of businesses do a tremendous amount of business around Valentine's Day, so take advantage of the "love holiday" and offer relaxing, romantic spa days for couples.
Restaurants can offer meal deals such as dinners and desserts for two.
Movie theaters can offer two tickets for a discounted price, and the possibilities for candy shoppes, jewelry stores and florists to make huge profits on this holiday are endless. Be creative, beat the competitions' prices and offer superior quality products and services, and you're sure to set record sales this Valentine's Day!
If you own or manage a business and need marketing supplies, PaperDirect is your one-stop online shopping source for advertising tools like banners, fliers, postcards and the like. Place your order online, and in no time at all, your treats will arrive at your front doorstep! No shopping in crowded stores and no paying exorbitant prices!