Fun Facts: Valentine's Day Trivia
Seasonal & Special Events Ideas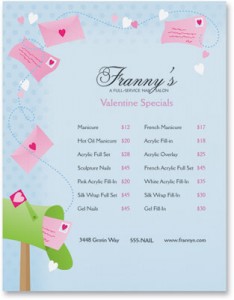 The country's holiday of romance is right around the corner. Check out these fun Valentine's Day trivia tidbits to get in the mood for every couple's favorite day of love. Be sure to get your Valentine's Day stationery at PaperDirect. Compose the most romantic love letter of all time on lovely, vibrant Valentine's Day paper from PaperDirect.
According to the Chocolate Manufacturer's Association, 36 million boxes of chocolate were sold for Valentine's Day in 2003.
The oldest known Valentine love letter was written by Charles, Duke of Orleans to his wife and is now located in the British Library in London. The Duke wrote the a poem when he was being held in the Tower of London following his capture.
According to the Greeting Card Association, 86% of Valentine's Day cards are bought by women.
Second only to Christmas, Valentine's Day sees more greeting cards sent than any other holiday with about 1 billion cards each yet.
Cupid was the son of Venus, the Goddess of Love and Beauty.
The average American will spend approximately $120 on Valentine's Day this year.
Men spend twice as much as women on Valentine's Day.
More than one-third of men say they'd prefer not receiving a gift on Valentine's Day, but only 20% of women say they'd prefer to not receive a gift.
Around Valentine's Day, a long-stemmed red rose will cost about $75, about 30% higher than its normal price.
Nine million pet owners will buy gifts for their pet this Valentine's Day.
15% of women send themselves flowers on Valentine's Day.
More at-home pregnancy tests are sold in March than in any other month.
Teachers receive the most Valentine's Day gifts of all groups.
Over half of all Valentine's Day cards purchased are bought six days before the holiday.
Hallmark produced its first Valentine card in 1913.
The start of St. Valentine's Day can be traced back to the Roman fertility festival of Lupercalia, when a young man would draw the name of a young woman in a lottery and would then keep the woman as a sexual companion for the year.
Celebrity Valentine's Day weddings: The Captain and Tennille, Meg Ryan and Dennis Quaid, Jerry Garcia and Deborah Koons and Pam Anderson and Tommy Lee.
Flower colors have different meanings. Red roses mean love, yellow roses indicate friendship, and pink roses mean friendship or sweetheart. Red carnations mean admiration, white carnations mean pure love, red chrysanthemums mean love, and primrose means young love.
In the medieval times, doves are widely believed to choose their mates on February 14. It has become a favorite symbol for Valentine cards.
Children ages 6 to 10 exchange more than 650 million Valentine cards every year.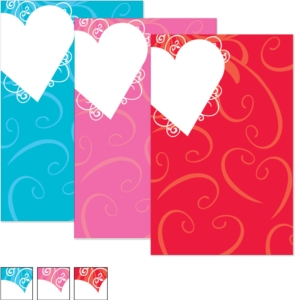 PaperDirect also has Valentine's Day invitations if you're hosting a party this year.