5 Kids' Events That Still Require Mailed Invitations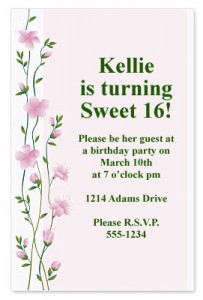 In this era of Facebook invites and email e-cards, it's hard to know what events still need paper invitations. For a casual get-together, sure, online invites will work. However, we have compiled a list of 5 events in your child's life that are too important to leave to the online design of invitations.
Bar Mitzvah/ Bat Mitzvah– In the Jewish culture, this event marks a huge moment in a child's life – where they make the transition from being a boy or girl into a man or woman. Generally, you will invite all your family and friends to attend this event months in advance. Most Bar/Bat Mitzah's have a theme – which should be matched on the invitations.
First Communion— This is such an important religious ceremony for Catholic children – all family and friends should be there to witness this milestone in a child's life. Definitely not a Facebook Invite appropriate event – it must be an elegant invitation.
Sweet 16 Birthday Party– A 16th birthday marks a turning point in your child's life (and your life) – they can finally drive themselves to soccer practice. If you're planning on having a big blowout for their birthday, you'll want to make it extra special by sending out invitations. These invites can be fun or elegant, depending on the style/theme of the party – get your 16 year old involved!
Baptisms– Having friends and family around to celebrate in the baptism of your child is a joy that is cherished in life. Make sure you make this event extra special by getting sophisticated Baptism invitations for this occasion.
Graduation–This one is somewhat of a no-brainer. When your child (who is not so young anymore) is graduating from high school, you'll want to make sure you are doing anything you can to make this day as memorable as possible. Sending out invites to a graduation celebration will show your son/daughter that you are really proud of them and want to share this day with friends and family.
From elegant, sophisticated invitations to birthday theme invites, PaperDirect has it all. Make sure you have the perfect invitation to add to the scrapbook album for each event!