St. Patrick's Day Traditions and Fun Facts
Seasonal & Special Events Ideas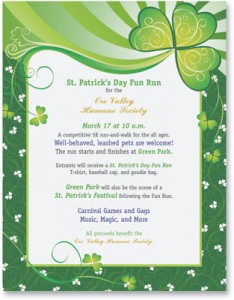 From green beer to clovers to parades, the traditional Irish celebration of St. Patrick's Day has been a fixture in the U.S. since the late 1700s.
But there's a lot more to it than Guinness and folk dancing. The holiday's namesake, St. Patrick, was born in Roman-controlled Briton in the 5th century. As a teen, slavers kidnapped him to Ireland. He managed to escape, but then returned to the Emerald Isle, bringing Christianity with him – and converting the local Druids along the way.
After his death on (you guessed it) March 17, legends surrounding St. Patrick grew, becoming ingrained into the celebration that bears his name.
Lucky Clover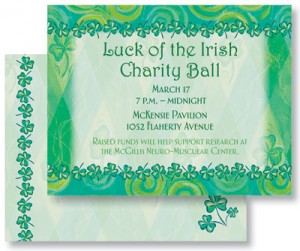 Ever wondered why St. Patrick's Day is associated with shamrocks? Legend has it that the saint used the clover, a native Irish plant with three leaves connected by one stalk, to represent the concept of the Holy Trinity to non-believers.
Today, perhaps no other symbol brings the holiday to mind quite like the shamrock. There's no better way to dress up party invites, stationery or even post-it notes than with a touch o' the lucky green clover!
Kissing the Blarney Stone
Another symbol of St. Patrick's Day, the Blarney Stone, isn't directly related to the saint himself. Rather, the legend involves a castle in the village of Blarney, just northwest of Cork, and an old woman with magical powers who was saved from drowning by an Irish king.
To thank the king for saving her life, the old woman granted him the power of persuasive speech – if only he would lean over and kiss a stone on top of the castle.
Today, tourists come from around the world to kiss the Blarney Stone – and the best day of the year to do it? March 17, of course!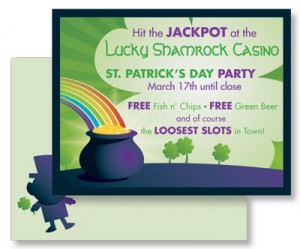 Parades
For most of the U.S., St. Patrick's Day means parades. From New York to Boston, Chicago to Dublin – Ohio, that is – St. Patty's parades fill the streets with floats, bands, bagpipers dancers and leprechauns, all dressed in the brightest of emerald greens.
Speaking of green, what's that "wear it or get pinched" thing all about? Apparently, leprechauns – who are know for their mischievous nature and their love of tripping, kicking and otherwise bothering unsuspecting humans – can't see the color green, rendering anyone wearing the color safe from unwanted leprechaun attention.
If you forget to wear green, a pinch will remind you to armor yourself in emerald to guard yourself against leprechaun mischief. However, with all the celebrating going on around the country on March 17th, green might just be impossible to forget!