Decorate Outdoors for a St. Pat's Family Gathering
Seasonal & Special Events Ideas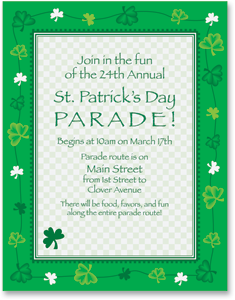 As a fantastic opportunity to gather family and friends, St. Patrick's Day is the perfect time to fire up the grill and hold an outdoor party to welcome the warmer weather of spring. Throwing the ultimate St. Patrick's Day party can be loads of fun, but the planning stages may seem a little overwhelming for the uninitiated host, especially those on a budget. These decorating tips will ensure that your St. Pat's Day invitation recipients are engaged from the moment of their arrival.
Get the Outdoors Even Greener with St. Patrick's Day Decorations
Green or decorated, streamers, matching plates, napkins, and festive cups are a given. However, you can save some money by creating most of your St. Pat's outdoor decor yourself with a few additional items from the party or craft store.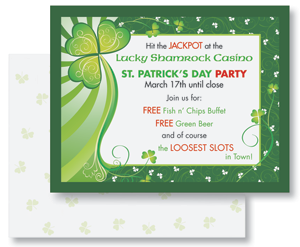 Shamrocks: Use green poster board to cut out various shapes of clovers, and don't forget to include a few lucky four-leaf clovers. Punch a hole into the top to allow for hanging from the trees, patio, or fencing outdoors, and save a few to adorn indoor areas that guests will be using.
Streamers Leading to Pots of Gold: Get creative, and use rainbow hues to create twisted streamers draping across trees and indoor areas. Attach a pot of gold cut out on each end to give the leprechaun something to chase.
Centerpieces: Start hitting garage sales or secondhand stores early for green vases or containers, and pick up some white carnations. Place the carnations in water with a good dose of green food coloring to make the flower's tips green, and then place into the vases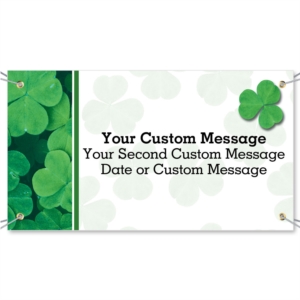 just before the party.
Banners: Let everyone know where the party's at or dress up your outdoor family gathering with a festive St. Patrick's Day banner or two. Customize your theme and wording on a heavy-duty, weatherproof banner from PaperDirect that you can use year after year.
St. Patrick's Day Game Ideas
Keep the fun rolling with some fun family games perfect for outdoor enjoyment. One favorite resembles Tag, called "Catch the Leprechaun." A chosen player puts on a leprechaun hat and is chased until caught. Whoever succeeds first puts on the hat and becomes "it." Another idea is to place chocolate gold coins, shamrocks, and other goodies around the house and hold a scavenger hunt. Divide into teams to keep the search competitive and fun for all.
Whether you are looking for creative invitations, banners, stationery, or other great outdoor decorating ideas for your St. Pat's party, you can count on PaperDirect for fast service and top-quality products at affordable prices.