The Essential Guide on How to Host a Networking Event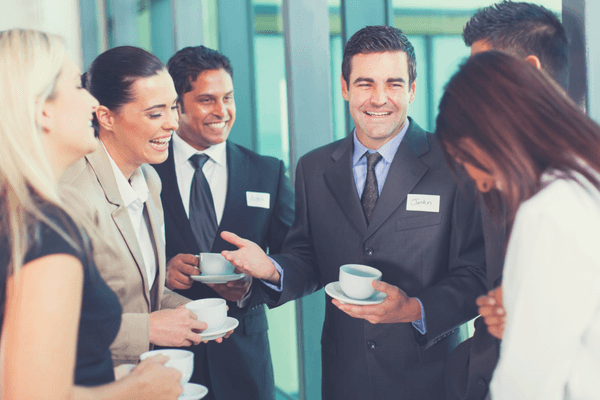 It's time to host your company's first networking event to nurture those valuable connections among your staff, industry colleagues, valued customers, and potential clients. Here's our essential guide to planning a fun, productive networking event – let's get started!
The Perfect Place
You've heard that location is everything. When you're hosting a networking event, it needs to be somewhere comfortable, easy to find, and central to your attendees.
We love the idea of a renting space on a hotel's rooftop garden, in a restaurant's private dining room, or at the meeting space in a museum. Of course, more traditional conference centers and hotel reception rooms are equipped for networking events, too.
When calling potential venues, be sure to ask:
What's your maximum occupancy?

What does the room rental include? (Ex. catering discounts, use of audio/video system, tables/chairs, set-up and tear down, etc.)

What dates are available?

What's the total cost including deposits, rental fees, and cleaning charges?
If one of the calls wows you, visit before locking in a date. A website video tour may look fabulous, but once you step foot into the location, you might notice a musty aroma from old carpet or discover the lobby is under construction, creating an eye-sore for your guests.
The Party Supplies
After you have the location settled, it's time to channel your inner event planner and think of all the extras you need to have on-site to keep the networking guests energized and chatting.
Here are a few ideas to discuss with your planning team:
Name badges

Event programs

Notepads and pens

Beverages (water, alcohol, soda)

Hors-d'oeuvres (buffet or servers)

Prizes for games (

certificates

,

trophies

, gift cards)

Playlist or live band

Decor for tables (florals, signs)
Depending on the size of the event, consider making goodie bags for each attendee. These may include free swag from your company or gifts from sponsors in addition to an event program and the attendee's name tag.
The Event Promotion
Now it's time to let your guests know about the big day. First, decide if the event is invite-only or if you want to open it to the public. Then, share the news via flyers, social media, and emails.
To add a personal touch, invite VIPs to networking events by writing invitations by hand and dropping them in the mail. Or, send the note with a bouquet or snack delivery to their office to make a lasting impression.
The Event Games
Everything is set and you're ready to get the party started. But, how? We love the idea of using icebreaker games to get people to mingle and loosen up.
Play a game of "Match". Place a sticker on the back of each attendee's name tag. Each sticker will correspond with another sticker in the room, and the two have to find one another by randomly describing their picture to guests until the match is found.
For example, if your sticker is of a pizza cutter, you might say it's something that cuts, has a wheel and is used at mealtime. When you find someone who has the pizza sticker, you've made a match!
You can also try classic games like team scavenger hunts or two truths and a lie. Consider placing small two-player games like Tic-Tac-Toe or Mad Libs on tables as attendees wait for the event to officially start.
Are you in full-on event planning mode yet? Don't forget to order name badges, event banners, VIP invitations, stationery for the programs, and prizes for the games. You can find it all online at PaperDirect.