No Kids? No Problem: 5 Funny Ideas for A Pet Christmas Card
Seasonal & Special Events Ideas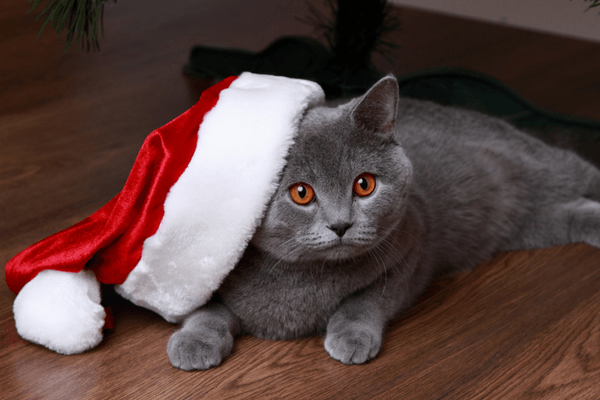 When your kids have four legs and a tail, it's perfectly fine to feature them in your holiday greetings. These pet Christmas card ideas will show your friends and family just how much you love your fur babies, especially at this festive time of year. Be bold and have fun with your holiday cards!
The Dressed Up Pets
Tis' the season to get a little goofy. Break out the holiday sweaters and gift wrapping bows. Dress up the pet (safely!) in gear that makes them look like Santa's little elf. Don't forget the hats and scarves, if your pet will leave them in place! Dressed up pet photos would look adorable on the Twinkles Holiday or Caroling Snowmen cards.
Twinning Holiday Ideas
Snuggle up and say cheese with your pet in this year's Christmas card. Dress alike in matching red sweaters or Santa Claus hats to make an impact. Or, get crafty and cover boxes in gift wrap and pop out of the packages as the best Christmas gifts of the season! We think these poses would look best on the Red Ribbon and Pine Holiday or Ice Skating Party Holiday cards.
Pet Perfect Portraits
Head to your local pet store or animal rescue fundraiser offering professional family portraits – with your pets! With perfect lighting, expert posing and amazing holiday backdrops, you really can't go wrong with this refined approach. Use one of these images on an elegant Peace Azure or Silver Scroll Holiday card.
An Artsy Holiday
Do you have a knack for photography? Set up a seasonal backdrop, grab the camera, and show off those skills! Whether you're in the shot or not, make your pet look like a cover model. For an added fine art touch, consider doing a color wash to highlight the reds against a black and white image or print the picture in old-fashioned warm sepia brown tones. Try framing your artsy photo with the Vintage Christmas Holiday or Timeless Holiday card!
Winter Fun Photo
Do you live in an area with evergreen trees and a fresh blanket of snow? Head outdoors with your bundled-up pet and frolic in the season. Have a friend snap some pics of you and your pets making snow angels, building a snowman or peeking through a holiday wreath. Then, show off your silly pose in a Snowflake Holiday or Peaceful Pine card.
Are you ready to start designing your holiday cards? Browse Paper Direct to get the perfect card to showcase your pet Christmas card ideas!