4 Easy Ways to Avoid Holiday Stress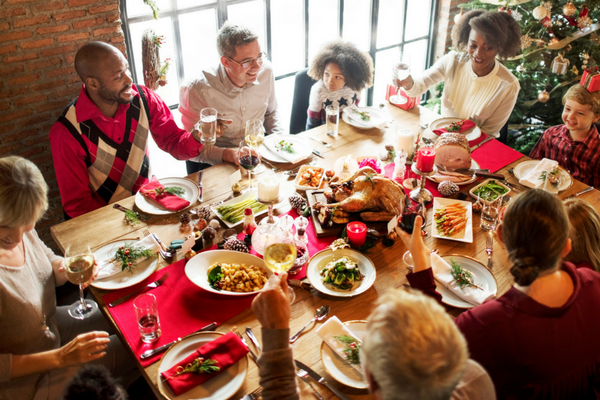 Holiday cheer quickly fades when you're bumping elbows with tense shoppers at understaffed stores, creating dinner party plans to meet five different dietary needs, and finishing up travel plans on a small budget.
Fortunately, holiday stress doesn't have to ruin the season. You can avoid holiday stress by keeping a positive mindset, taking a few shortcuts, and having a little fun when tackling the tasks on your seasonal to-do list. Here's how you can get it all done, without an Ebenezer Scrooge attitude.
Shopping for Gifts
If you haven't already adopted online shopping, do it now. Browsing gift ideas from a laptop in your pajamas is less stressful than wading through a sea of people at overcrowded shopping malls. As a bonus, presents show up at your door in shipping boxes that make them easier to wrap.
Planning Holiday Meals
Nobody expects you to make every dish from scratch using your great grandma's recipes. Instead, focus on one over-the-top homemade dessert or unique family-favorite side dish. Then, cater the rest or pick up a pre-packaged meal from your local grocery store. You could also host a potluck meal and ask your guests to bring their favorite family recipe to share. Spend your extra time sipping a holiday libation!
Creating Travel Plans
Tis' the season for deals and travel companies want your business. Take a few minutes to look at coupon sites online to find the cheapest flights, hotels, and rental cars to alleviate financial stress. Pro tip: If you can book all three at once, you'll usually get a lower price overall or bonus loyalty program points, making your next travel package cheaper!
Writing Christmas Cards
Streamline your holiday card writing process. Start a database with names and addresses, then update it each year. Use this to print address labels from your computer. Keep your greetings short and sweet! If you have a lot to say and share similar news with everyone on your card list, type up a letter, print it on holiday-themed paper, and tuck it inside each holiday card. Add some well wishes and a signature, and your cards are ready for stamps and mailing!
Are you ready to stock up on holiday cards, festive papers, and seasonal address labels? Let us send it to your front door! Browse Paper Direct's Christmas store online today.