Spring Has Sprung! The 7 Best Plants for Your Office Desk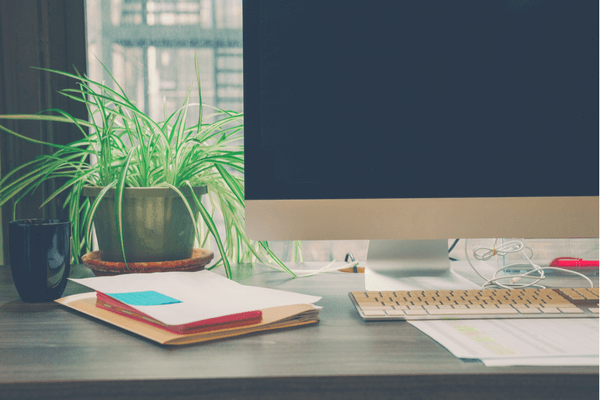 Even though it might not be warm and bright where you are quite yet, it is officially spring! However, while the sun is shining and plants are blooming outside, your drab office space might be stopping you from getting into the spirit of the season.
To help you spring into spring, here's a list of some of the best plants to keep on your desk to help chase away your winter blues. And don't worry, if your office doesn't allow plants, we have a few recommendations for you, too!
Spider Plant
The spider planet is not nearly as scary as it sounds! It's a hardy little plant that requires very little maintenance. If your office is more of a cubicle than a traditional office, a spider plant might be perfect for your space, because it can grow in partial sun and shade. As a bonus, it's proven to work as an air detoxifier!
Golden Pothos
NASA noted the golden pothos is another great option to improve air quality – it removes over 70% of air pollutants. It's also a perfect plant for low-light situations, so if you haven't made your way to a corner office yet, this plant will do just fine without direct sunlight.
English Ivy
English Ivy is one of the best plants for the office if you're looking to make your workspace an Instagrammable paradise. English Ivy is a climbing plant that will look oh-so-luxurious draped along your desk or a shelf nearby, and it's ideal for workspaces with poor circulation.
Snake Plant
A snake plant is perfect if you want a little greenery to liven up your space but don't want to have deal with a high-maintenance plant. Snake plants can be neglected for weeks, and they'll still keep the air around you clean. Talk about employee of the month!
Succulents
If you manage to kill every plant you touch, try a succulent! They come in dozens of different varieties and colors and shapes, and as long as you can provide them with adequate sunlight every once in a while, you can forget to water these desert plants for a good long while.
Lemon Balm
Lemon balm plants don't just add some color to your drab workspace – they also have a comforting lemon scent that is shown in studies to provide a significant mood enhancement. And let's be honest – we could all use a little pick-me-up during a long work day!
Floral Stationery
If even a low-maintenance plant seems like it's a little too much work, there are still ways to brighten your office space for spring! Sometimes, the best plants for sprucing up your desk are the kind that are printed on paper in the form of floral stationery. All the color and brightness of a plant with none of the upkeep – that's what we'd call a win-win!
To find eye-catching floral stationery and other products to help brighten your workspace as we head into spring, browse the options at PaperDirect today!