3 Spooky Ideas for Halloween Office Decorations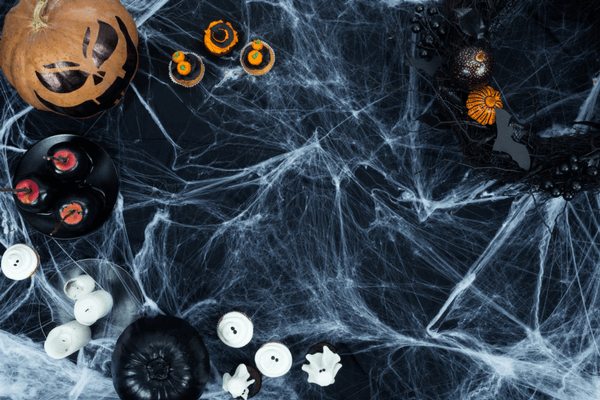 Whether your office space is modern, retro, traditional, or high-tech, you can transform it into an enchantingly eerie environment with these top Halloween office decorations ideas. Instead of popping a pumpkin and paper skeleton here and there, you can best bedeck the entire office by choosing an overall theme. These three themes are some of the most spooktacular Halloween office decorations ideas out there.
Spooky Spider Den
Spiders and the tangled webs they weave make for a fast, easy and super-stunning Halloween theme. You can create spiders of various sizes out of numerous items, provided you have a solid item to serve as the body, eight items for legs and a can of black spray paint. Try empty boxes with cardboard tube legs, or Styrofoam balls stuck with eight pencils or pens.
Rows of skittering rubber spiders can add a frightening touch door jambs, window sills, and counter edges. Just stick them on with double-sided tape. Faux spider webs are inexpensive and easy to drape over doorways, windows, and hallway openings. Invest in a larger spider web as the central focal point, or create a groovy one out of a cut-up trash bag.
Spider snacks can consist of goodies shaped to look like spiders. An easy one is spider cupcakes, featuring an unfrosted chocolate cupcake on a white plate, and eight legs drawn on the plate with icing. Flatbread sandwiches can likewise serve as a spider body, with mini carrots sticking out around the sides for legs. Use a couple of radishes for eyes.
Make sure to top off the spooky spider theme with spider sticky notes and spider stationery for all your reminder notes, office memos, and announcements during the Halloween season.
Ghosts and Goblins
If spiders tend to freak out your coworkers, you can always opt for something a bit tamer, like ghosts and goblins. Ghosts can be quickly created by drawing eyes and a mouth on a white sheet, cheesecloth, or gauzy fabric and then positioning the fabric over lamps, filing cabinets, or other office items.
Create goblins out of cardboard cut-outs you can place strategically around the office. They can make a dashing statement peeking over cubicle walls, on the sides of office trash cans, and even positioned near the main company sign in the lobby.
Ghost snacks can be as simple as peeling a banana and then adding chocolate chip eyes and mouth, stuck in place with a dab of peanut butter. Drawing a face on the outside wrapper of string cheese makes another tasty ghost treat, or you can always go for a ghost-shaped pizza.
Ghost and goblin stationery needs to be an office staple with this theme, with options that include border paper, vinyl banners, and postcards for your office announcements and other communication.
Office Haunted House
Perhaps the most versatile theme, the office haunted house lets you combine the ghosts, goblins, and spiders with anything else you may find in your typical haunted house. Try spooky silhouette cut-outs on the windows. Pepper the hallways with a few plastic skeletons and black cats. You can even create miniature haunted houses to place strategically around the workspace or erect a haunted house computer.
Spooky snacks that align with the haunted house theme again give you a range of options. Sugar cookies shaped like cats, bats, witches, and ghosts are an option, as are graveyard cupcakes, featuring a vertical fig newton iced with R.I.P. as the gravestone.
The field is likewise wide open for Halloween stationery that supports your haunted house theme. Send out announcements on pumpkin border paper. Use candy corn border paper for your office memos. Hook up a banner with a haunted hill background.
These three Halloween office decorations ideas can certainly enliven the office and get everyone in the mood for the sensationally spooky season. Don't forget to visit PaperDirect for all your Halloween paper needs leading up to the haunted day!