5 Tips for Standing Out at Your First Job Interview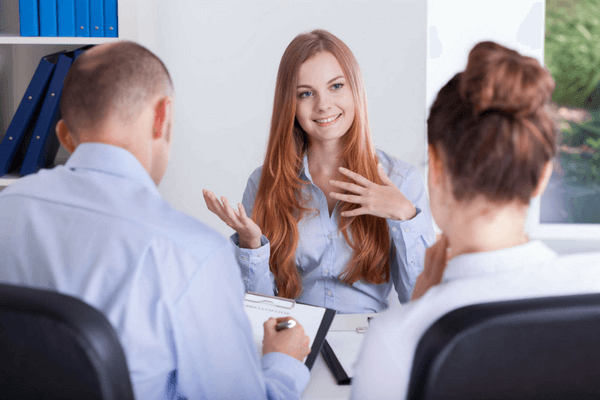 You've received some training, you've sent out your resume, and now — at long last — you're finally headed toward your first job interview. If your palms are starting to sweat and your shoulders tense up at the thought, don't worry. You are not alone! Interviewing for any job, let alone your first one, is a nerve-wracking experience.
Fortunately, there are a few things you can do to make sure the interview goes smoothly. Follow these first job interview tips to get an edge over the competition.
Prep Physically
Remember that when you step into the room with your potential employer, it's not just your mind that needs to be working well. Make sure that you're prepping your body correctly. Get a good night's sleep the night before and eat a filling breakfast the morning of your interview. If you have time, do some yoga or hit the gym before your interview to boost confidence and get those endorphins going. There's no sense being tired and hungry when you're trying to impress your potential employers.
Dress for the Occasion
Think about the job you're applying for and how you might dress for it on a day-to-day basis, then outfit yourself a step above that. If you're trying for a manual labor job, go with business casual, like a formal button down shirt paired with slacks or a skirt. If you're interviewing for an office position where the dress is business casual, consider wearing a suit or a professional dress.
Whatever you wear, make sure that your clothes are clean and as wrinkle-free as possible. Avoid flashy colors or bold fashion statements – there'll be plenty of time to express your true fashion-forward self once you get the job.
Do Your Homework
Spend at least an hour researching the company at which you're going to interview. Read articles about them, review who the decision makers are at the company, and try to find out what former employees are saying. A simple Google search of the company's name should yield several results to peruse before you walk in the door. Glassdoor is also a useful resource for employee opinions and interview experiences.
When you're informed, you can speak easily and handle any topic that comes your way, and your interviewers will be impressed with the effort you put in to learn about their company.
Project Confidence and Good Humor
This one is straightforward, but it can be an easy one to overlook when you're walking into your first job interview. You might be nervous, but if you hold your shoulders back, look your interviewer in the eyes, give them a firm handshake, and keep a smile on your face, you'll go a long way toward masking your anxiety.
You never know – a little feigned physical confidence may even inspire some inner confidence, too!
Send a Note Afterward
No matter how you think the interview went, you can only help yourself by taking the time to pick up a pen and write a short thank you note to your interviewer. A friendly note thanking them for their time might make all the difference between landing the job and being beat by the competition.
Follow these tips, and your first job interview is going to be a breeze. Don't forget to prep in advance by doing some research, finding a professional outfit, eating a filling meal, and ordering thank you notes from PaperDirect to send after your interview. Now, go get 'em!