8 Tips for Planning an Unforgettable Holiday Party For Work
Christmas & Holiday Party Tips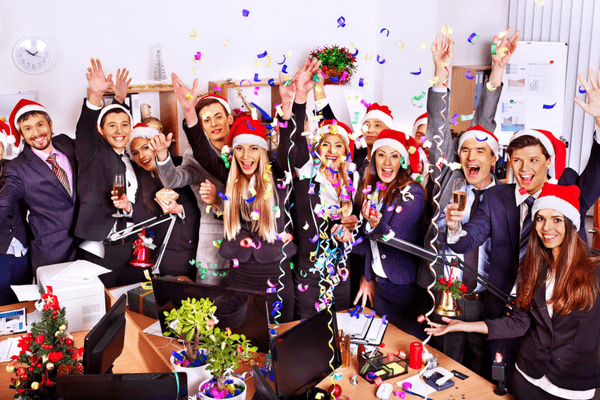 It's likely that you've attended a holiday office party that doesn't fill you with the holiday spirit – in fact, it may have been so dull that most employees wished they could just sit back down at their desks and resume their workday. Fortunately, your office doesn't need to suffer the same fate.
If you've been tasked with planning a holiday party for work, look to this helpful list of tips and tricks to help you create a fun and memorable event that people will be talking about for years to come.
Send Out Invitations
Get your staff excited for the office holiday party by sending out invitations well in advance. Early invites mean that employees can block time on their calendars and begin looking forward to the impending festivities.
Pick a Theme
Nothing help set the mood of the party (and direct your efforts) like picking a theme. And don't make the theme "holidays" – get creative with it! Plan an ugly sweater party, complete with costumes or games, or turn your office into a winter wonderland with fake snow and wintery decorations.
Don't Make Your Employees Bring Anything
More than anything, your holiday office party should be about celebrating your employees' hard work. So make it about them: get a catering company or restaurant to handle the food and drinks so that your team can sit back and enjoy themselves.
Commemorative Photos
Set up a small area of the office — complete with silly props and clothing — where your employees can take a photo of the occasion. The snaps will look great on your social media or recruitment pages.
Make It Interesting With Door Prizes
If your budget allows for it, get a few great door prizes that you can hand out over the course of the party. You could also have a few thematic games with prizes for the winners.
Give Your Employees a Keepsake
Prepare a small gift for each employee, as well as a custom greeting card. Fill the card with compliments, thanks, and a few words of encouragement – your employees will love feeling appreciated for all their hard work.
Remember That It's a Holiday Party
Do your best to make the holiday party inclusive – don't make it Christmas themed if you have employees who practice other religions. Keep it broad by branding it as a holiday party, and sticking to a nondenominational theme.
Make It a Puppy Party
Yes, this is a real thing. Check your local listings for a company that will rent a swarm of adorable puppies for a few hours. Your employees will love to destress by playing with the special guests all evening.
No matter what you've got in mind for your upcoming holiday party, you can count on PaperDirect to help you plan a winning holiday party for work. Our entire line of paper products can help you spread good cheer to every corner of the office.