3 Easy Ways to Show Employee Appreciation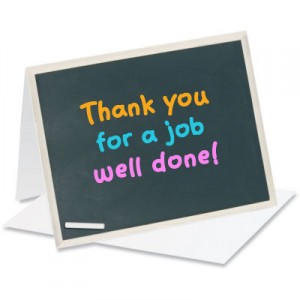 As a manager, you're aware that making your employees feel valued is simply good business practice. It increases productivity, improves the workplace atmosphere, and reduces employee turnover.
While every employee would welcome a cash bonus or a promotion, these aren't always within your power to offer, but these aren't the only ways to show your employee that he or she is valuable. In fact, there are hundreds of creative ways to show employee appreciation. Here are 3 simple ways:
Set up a white board for "kudos"
By hanging a white board in a place where all staff members have easy access to it, you can provide public acknowledgements to staff person or entire teams. This medium also allows spontaneous praise to be offered by one team-member to another, which helps build a spirit of cooperation and unity.
Also, the white-board provides an outlet for some creative playfulness, as thank-yous and compliments can be elaborated with doodles, stars, different-colored inks, and so on.
Trumpet your praise on social media platforms
While businesses are becoming familiar with using their Facebook and Twitter accounts for purposes of marketing, they are only beginning to explore the tremendous potential of these platforms for employee recognition.
If you make a special Twitter or Facebook post to praise an employee for going above and beyond the usual duties, you will be sowing an entire field of good will. Your employee will share this post with friends and family members, and co-workers will be able to "like" or re-tweet it.
One more, your customers will see that your business has a heart, and they'll feel good about buying your products and services.
Give a custom-made certificate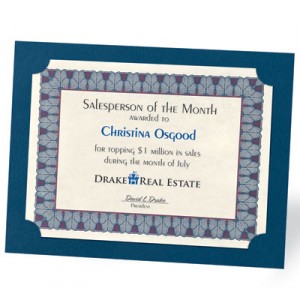 A formal award certificate, custom-printed with your employee's name and special achievement, carries with it a unique sense of permanent recognition. PaperDirect allows you to design your certificate online using a wide selection of templates, and receive them fully printed and ready to present.
These types of certificates or awards convey a sense of serious importance, and the staff person who receives one is likely to frame it and keep it as a long-term reminder that he or she is valuable.
Investing the time to give your employees a heart-felt message of appreciation will provide you with high returns in both productivity and good will so show your appreciation today!