How to Put a Map on Your Wedding Invitations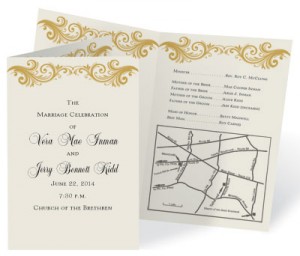 When it comes to planning a wedding, details matter. And one of those details is ensuring guests know how to get to your location with a map. Wondering just how to put a map on your wedding invitations? Check out three different options.
Hire a Designer
Hiring a designer to take over the map duties, or even the duty of creating the entire invitation, may be the easiest option. But it can also be the most expensive option that causes you to miss out on all the fun.
Copy a Google Map image.
If you're fairly adept on your PC, you can create your map by simply copying and pasting an image from Google Maps.
Search for your address on Google Maps and get an image of the map on your screen.
Zoom in or out to adjust the level of detail you want.
Find the "Snipping Tool" in your lineup of computer programs.
Select "New Snip" from the file menu on the little box that appears on your screen.
Drag the cursor on the screen to create a box around the map area you want to copy. This gives you a pop-up screen containing your selected area.
Select "Save" from the file menu on your pop-up screen to save the image as a JPEG.
Get ready to insert the JPEG into your custom wedding invitation layout to add your map.
Does hiring a designer sound good yet?
Actually, the process is not that difficult and it gives you a full-color, fully-detailed map of your area. You can open the JPEG in a photo editing program to add an icon or exact address for your location, adjust the coloring, or change the image from color to black and white.
Trace a Simple Map.
Another option is to get a Google Map printout of your map or an old-school paper map and trace a simple map of your location. Place tracing paper over the area you want to target, then use markers of varying widths to create fat freeways and thin smaller streets. Write in your address next to a little icon of your house.
You can then scan the map into your computer and adjust as needed, saving the image as a JPEG or head to a copy shop for help sizing the image. Review more detailed tracing instructions on a YouTube wedding map tutorial:

However you choose to add a map to your wedding invitation, your guests are likely to be thankful that you did. You can also have fun doing so, thanks to the variety of wedding invitation layouts and stationery you can customize at PaperDirect.