8 Fun Game Ideas for Company Picnics
Seasonal & Special Events Ideas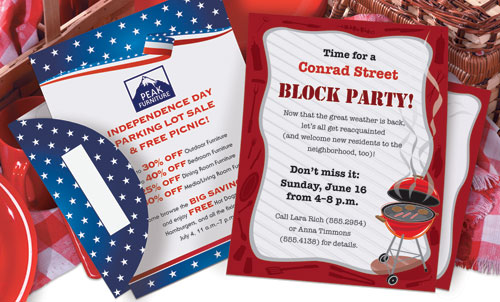 As the weather warms up, it's time to start thinking about enjoying it with a company picnic! Choose from a variety of invitations r create your own invites on festive border paper and get your employees, and perhaps their family members, together for a fun afternoon outdoors. Help keep the party enjoyable with these fun game ideas for company picnic days.
Game Ideas:
1. Sack Race: This rowdy outdoor game will get everyone loosened up because it's impossible to not look silly while hopping around in a sack. If you don't have access to sacks, pillowcases work just as well.
2. Water Balloon Toss: There's no harm in getting a little wet, and most people will in a water balloon toss game. Have people pair up and stand a few feet away and toss a water balloon from one person to the other, taking a step back with each successful catch.
3. Horseshoes: If your picnic area has a horseshoe pit, this makes a fun and casual game for people to play whenever they have a spare moment at the picnic. There's not much as satisfying as hearing the clink of a horseshoe around the stake!
4. Bocce Ball, Bean Bag Toss, or Ladder Golf: These picnic games go along with nice weather and being outdoors. Consider building a branded game and give out prizes to the winner!
5. Three-Legged Race: If your group doesn't mind getting a little crazy, pair off and tie your adjoining legs together for a classic three legged race. It's amazing how well people can get along if they're depending on each other to cross the finish line first.
6. Human Knot Challenge: Divide picnic attendees into teams and have each team get in a circle, put their hands in the middle, and grab two different people's hands. Then challenge teams to untangle into a circle as quickly as possible without letting go.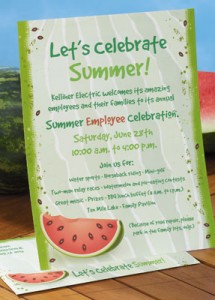 7. Company Trivia: Get everyone together at the end of the day for a trivia game, asking about company history and fun facts. You can even keep the same teams from games earlier in the day.
8. Watermelon Seed Spitting Contest: This classic contest is fun for picnic attendees of all ages, even employees' children! It's also an easy one to play if you're already planning to serve watermelon. Set up a starting line and mark the farthest seed each time with a golf tee.
With every picnic game that's played at your company picnic, focus on having fun and getting to know each other in a context outside of work. If you want to heat up the competition a bit, shop for prizes and custom certificates for game winners, too.