10 Quotes for Wedding Ceremony Programs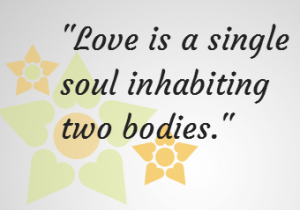 A paper wedding program lets your guests know the order of service and who's who in the bridal party. Many couples like to include a quote or two in the program that succinctly and romantically sums up how they feel about each other. Here are a few ideas for famous romantic quotes for wedding ceremony programs.
1. Aristotle
The ancient Greek philosopher Aristotle is credited with the quote: "Love is a single soul inhabiting two bodies."
2. Joseph Campbell
Mythologist Joseph Campbell summed up the commitment marriage requires and the great love two people can have with this quote: "When you make a sacrifice in marriage, you're sacrificing not to each other but to unity in a relationship."
3. Oscar Wilde
Add a bit of wit and charm to your wedding program with a quote for Oscar Wilde, from his play "A Woman of No Importance." The quote will give your guests some food for thought: "Who, being loved, is poor?"
4. The Princess Bride
A quote from the popular movie A Princess Bride will make hearts flutter during your wedding ceremony. Stick with the simple, but romantic, and choose "As you wish."
5. Henry Drummond
Scottish theologian and writer Henry Drummond has a quote that accurately sums up what married life should be like: "To love abundantly is to live abundantly, and to love forever is to live forever."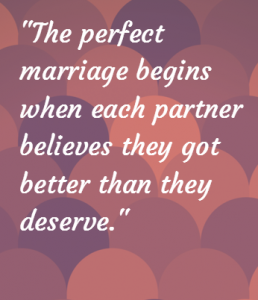 6. Anna Karenina
In the Russian novel Anna Karenina, land owner Levin feels overjoyed after getting married. Capture his feelings with a quote that describes two people coming together after marriage: "He felt now that he was not simply close to her, but that he did not know where he ended and she began."
7. Wuthering Heights
Emily Bronte provides another quote about interconnected souls in her novel Wuthering Heights: "Whatever our souls are made of, his and mine are the same."
8. William Shakespeare
Shakespeare's plays and poems are full of lines that are ripe for printing on wedding programs. Here's one from Henry VI: Part 3: "Now join your hands, and with your hands your hearts."
9. Anonymous
Share your delight in having found your partner with this quote from an unknown, anonymous source: "The perfect marriage begins when each partner believes they got better than they deserve."
10. John Berger
Highlight the uniqueness of your relationship with a quote from author John Berger on your program: "All weddings are similar, but every marriage is different."
A well-chosen quote in your wedding program sets the tone and highlights the theme of the ceremony. For more help choosing a wedding program, head to PaperDirect.