Creative Summer BBQ Invitations
Seasonal & Special Events Ideas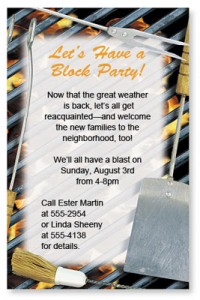 As cherry blossoms fall and temperatures soar, it's time to break out the grill. Bring people to your door this summer with an assortment of summer BBQ invitations from PaperDirect. You can print them out from the comfort of your office on quality designer paper, or customize free downloadable templates and have PaperDirect do the rest. Here's a taste of the hot-off-the-grill products PaperDirect offers:
Personalized Border Papers
These fun flyers are sure to get noticed. Choose your message and print it on specialty designer paper, or design the flyers yourself and have PaperDirect custom print it for you. Designs include Grillin', Watermelon, Barbecue and Picnic.
Fold-Up Invitations
Add an element of excitement this summer with personalized fold-up invitations. Just print, fold, seal and ship! Each box of 28 invitations Includes clear water seals and response cards. Choose from trendy designs like Picnic, Barbecue and more.
Summer-Themed Postcards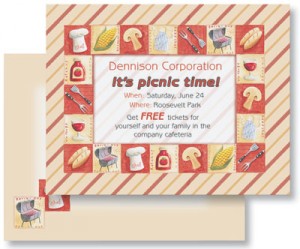 Available in Jumbo and Standard sizes, these colorful two-sidedpostcards are sure to get taste buds tingling. Choose the style and count and get them hot off your printer. Or pick your own font, layout, logo and image, and let PaperDirect handle the rest. You'll have to stop by PaperDirect to see all the innovative designs available!
Crescent Envelopes
Like a good steak, sometimes your invitations need an extra layer of oomph. In this case, it's not BBQ sauce, but a well-designed crescent envelope. A perfect fit for folded border papers, postcards and other PaperDirect potpourri. Designs include the fun Watermelon Party, the classy On the Grill and the bold Red, White & BBQ.
BBQ Party Tear-Off Tickets
Get your special event off the grill and onto the 

platter with personalized BBQ party tear-off tickets. With an easy-tear perforation, these tickets are add a professional touch to any event.
Want more ways to help your business stand out? Visit PaperDirect for summer BBQ invitations and more innovative paper products that are sure to kick summer off with a sizzle.