Cute & Lighthearted Songs for your Wedding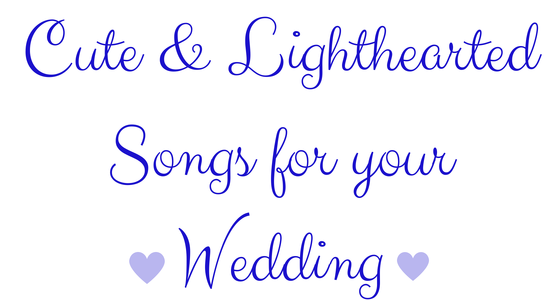 While romantic, heartfelt love songs certainly have their time and place, some couples want to take a more lighthearted approach to their weddings songs and first dance.
If that's you, browse this playlist and find a simple wedding song that can become a romantic favorite over the next years together. 
Songs:
Nothin about Love Makes Sense – LeAnn Rimes
Just the Way You Are – Bruno Mars
Home – Edward Sharpe & Magnetic Zeros
You and I – Ingrid Michaelson
1,2,3,4 – Plain White T's
I'm Yours – Jason Mraz
Lucky – Jason Mraz & Colbie Cailat
Would You go with Me – Josh Turner
Ours – Taylor Swift
I Do – Colbie Caillet
Everything – Michael Buble
Wildfire – John Mayer
Your Song – Ellie Goulding
Marry you – Bruno Mars
Do you have an amazing wedding song you'd like to share? Comment below!