Thanksgiving Table Setting Guide [Graphic]
While there are many ways to set a table for Thanksgiving, we believe there should be a nice balance between elegantly formal and excessive utensils. Below is a Thanksgiving table setting graphic to help guide you this Thanksgiving:
How to Set a Table for Thanksgiving: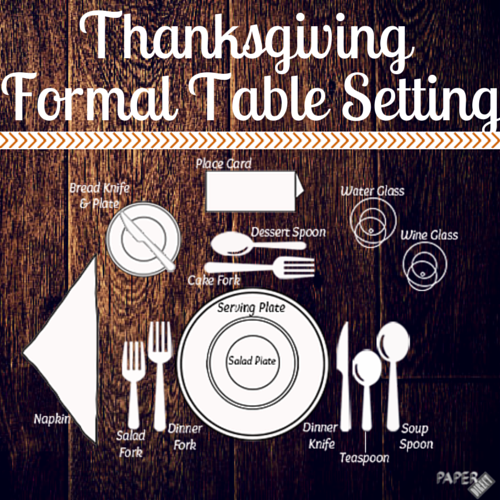 As you can see in the above graphic, you'll need a few things for a proper Thanksgiving including:
Dinnerware:
Serving Plate
Salad Plate
Bread Plate
Stemware:
Wine Glass (you can have more than one wine glass if you are serving both red & white)
Water Glass
Coffee Cup and Saucer (not shown)
Flatware:
Dinner fork
Salad Fork
Cake Fork
Soup Spoon
Teaspoon
Dessert Spoon
Dinner Knife
Bread Knife
Accessories:
Napkin
Place mat (optional)
Things to keep in mind:
1. Formal table settings take up room. If you have a small table, you may want to place the napkin on top of the salad plate or even beautifully bundle your flatware in a Thanksgiving-themed holder.
2. While you may think your guests will surely eat their pumpkin cheesecake with a fork, others may want to use a spoon. Try not to ax any of the flatware for this reason.
3. You can use a variety of stemware for beverages. These includes wine glasses, water glasses, flutes for champagne, or even mason jars for a playful feel.
4. If you're interested in giving your guests something to take home, consider writing a heartfelt "Why i'm thankful for you" on the back of their place cards. This will give them a treasure they can keep until next year.
5. We didn't picture a cup and saucer, though most formal settings include one. Towards the end of the meal when other plates and cutlery have been cleared, set a cup and saucer directly in front of your guests. This way they can enjoy coffee or tea with or after their dessert.
PaperDirect wishes all a wonderful and warm Thanksgiving. We hope this table setting guides you to creating a lovely dinner to share stories, while making new traditions.