Christmas Party Planning Tip #2 – Brainstorm
You have a budget in place. Your dream of having an amazing Christmas party is real. Now you need to find a place to host the event. Think through your list of friends and colleagues. Do any of them have connections at a local venue? Is there a location in your city that makes you smile each time you visit? Write them down.
While brainstorming potential party locations, you'll need to keep a few logistical considerations in mind.
Keep in Mind:
What will the weather be like in December? Will I be able to use an outdoor venue?
Is the location easy for out-of-town guests to find?
Does the venue have services I may need, such as catering or a DJ?
What is the maximum occupancy at the venue?
Once you have the Christmas party location set, send festive Save the Date postcards to everyone on the guest list.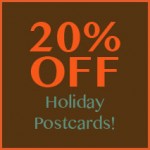 This week, Paper Direct is offering 20% off all holiday postcards. Simply enter code WCRT1014B at checkout to get this great deal.
For more great tips, be sure to check out our entire guide on Christmas party planning.