10 Ways to Combat the Saddest Day of the Year in the Office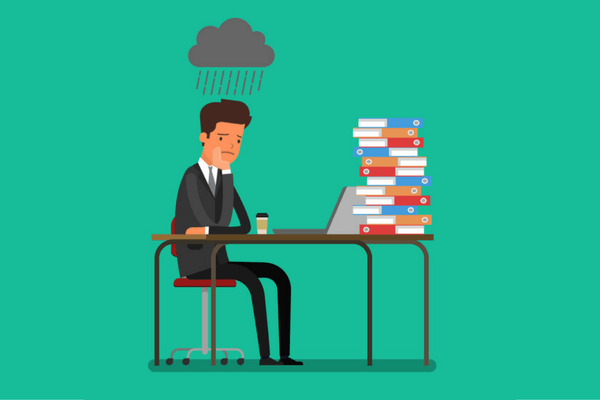 After a flurry of winter parties and new year's toasts, it's time to get back to work. Feeling bummed? You're not alone. What happened to the four-day weekends, pumpkin-spice lattes and the plethora of leftover baked goods?
As January gets rolling, it's not uncommon to notice an emotional withdrawal from all that good cheer. With your waistband feeling tighter, and your wallet lighter, create a battle plan to survive the saddest day of the year in the office.
It's called Blue Monday. (And we're not talking about the peppy cover song.) It's the third Monday of January, which falls on January 16, 2017 this time around. To keep the gloomy Gus syndrome to a minimum at the office, plan to add a few of these happiness-inducing ideas to the workday.
Declare it slippers day
No flats, dress shoes, heels or sneakers are allowed in the office. At the end of the day, give out award certificates to the weirdest, funniest, fluffiest and cutest footwear.
Schedule a potluck lunch
Ask everyone to whip up their favorite recipe from the holiday season and relive it all just one more time. You can never have too much spiced cider, right?
Take a company field trip
If you have a small workforce, rent a big van and head off site for a rejuvenating afternoon of team building. Work in groups to complete a scavenger hunt at a zoo or the mall.
Do a lunch-break show and tell
Remember how cool it was to bring a favorite object from home to show off to your classmates in elementary school? Revive that. Everyone is dying to see your collection of Garbage Pail Kids cards from the 90s.
Set up a margarita bar
In the afternoon, convert the meeting room into a self-serve sip and snack station. Bowls of tortilla chips, salsa, guacamole and several flavors of frosty margaritas are on the menu.
Tell jokes all day
Do you have an office intercom system? Grab a cheesy children's joke book and every hour tell a wacky knock knock or Q&A joke. Your staff can't help but laugh — or sigh — but at least they aren't sad.
Make Monday meetings goofy
Do you spend a lot of time in the boardroom on Mondays? Bring in a collection of comical hats (sombreros, derby hats, or dunce cones) and require all speakers to wear hats. No talking unless you have a hat on!
Dress in mismatched clothes
Let your staff put together the most outrageous clothing combos for the work day. Sure, a striped polo shirt goes with plaid golf pants and hiking boots. Don't forget to get some office selfies for social media!
Have lunch catered to the office
Is there a new little eatery down the road everyone's been dying to try? Surprise the staff with takeout from the restaurant — including dessert!
Host a raffle fundraiser
Put together an amazing gift basket filled with office snacks, bottles of adult beverages, concert tickets, and restaurant gift cards. Sell raffle tickets for $5 each, with the proceeds going to a favorite local charity. Draw the winner during the 2pm afternoon slump to liven up the office.
Ready to make Blue Monday the best? Jam to that song and get planning. Paper Direct has a collection of clever certificates you can personalize for your creative contest-winning employees. Shop online today!