End of School Thank You Gifts for Teachers
Recognition & Motivation Ideas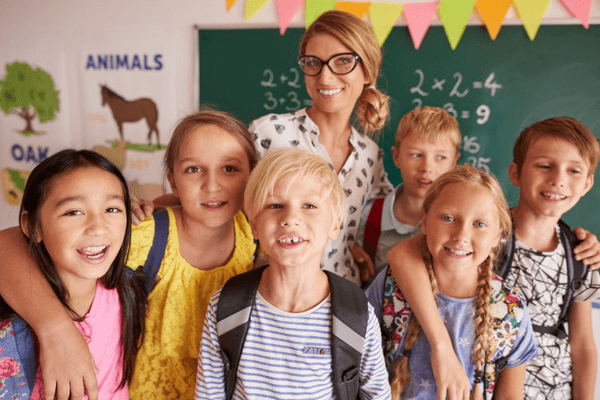 Kids and teachers alike are counting down the days until summer break. But, before students say goodbye to their school year mentors, be sure they show their appreciation for their teacher's help and guidance throughout the previous year with a little gift.
As you start to shop or create, you'll want to be sure your child is integral in this process. They are the one giving the gift, and they should have a say in picking it out and presenting it to the teacher.
Elementary School Teachers
Teachers adore homemade gifts from their littlest pupils. This is a chance for students to show off their individual creativity and newly learned skills. Set aside an afternoon to tackle one or two of these fun projects:
Decorative tin filled with of homemade cookies

Child-drawn thank you card

Hand-picked bouquet of flowers

Homemade tea bags filled with unique tea leaves

Personalized glass container

filled with fancy nuts or chocolates

Tote bag adorned with your child's colorful hand prints

Small potted cactus plant in a painted pot
Be sure to let the child help with gift wrapping the special surprise. Your kiddo will earn bonus points with the teacher for handwriting a "To and From" tag using A+ printing skills!
Middle School Teachers
Just because your child is getting older, don't be fooled. He still really likes his teacher. Skip the arts and crafts gifts this year, and get their educator a little something indulgent.
We love these ideas:
Coffee shop gift card

A colorful

pen set

Pizza shop gift card

Book by a favorite author

A baseball cap or linen scarf

Simple jewelry, like a beaded bracelet or tie pin

Gourmet lemonade mix and cute plastic tumbler
Encourage your kid to get to know the teacher and choose a gift that will inspire happiness. This teaches your youngster, to be mindful of what others enjoy and appreciate.
High School Teachers
Remind your teen that they're never too old to express gratitude. If their algebra teacher has gone above and beyond with after-school tutoring sessions or the art teacher continually boosts confidence levels, they deserve a little thank you gift.
Try these:
Teacher-themed travel mug

Fruit, cheese and crackers basket

Gourmet bakery treats

Local restaurant gift card

Fresh flower bouquet

Novelty desk coasters

Book of poems or inspirational stories

Candy bowl (and sweet treats) for the desk
Ready to start shopping? Browse PaperDirect online for the perfect thank you gifts for teachers, from mugs and plaques to lapel pins and cards, we have everything you need to make a positive impression at school!