Seasonal Wedding Colors that Never Go Out of Style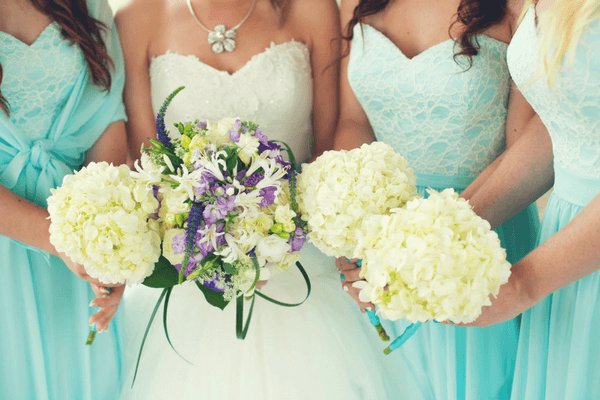 The lime green bridesmaids' dress trend may come and go, but some seasonal wedding colors are always in style. These classic color staples remain eternally elegant because they take their cue from Mother Nature, mimicking the colors that are typically associated with each season in the great outdoors. Check out a lineup of seasonal wedding color schemes that remain fresh, fabulous, and beautiful year after year.
Fall
Earth tones make sensational wedding colors in autumn, particularly because the season is packed with some of the most amazing natural colors. You don't have to opt for pumpkin orange tablecloths, but you can take advantage of autumnal accents. Accent a nude or taupe base color with hues of golden yellow, rust, and forest green for effortlessly amazing results. Autumnal earth tones look as gorgeous inside as they do outside, providing a warm and cozy feel.
Winter
Winter weddings stir up images of a magical wonderland, and you'll always be in style if you deck out your wonderland with the classic combo of white and gold. Winter white paired with metallic gold brings a sophisticated touch to any event, providing a clean, crisp, and classy atmosphere. These seasonal wedding colors not only provide a nod to the holidays and snow, but they add a layer of polished opulence to your affair.
Spring
Spring is when nature begins to wake up from its long winter nap. Bring that fresh and airy feel to your wedding with a palette of pastels. While soft pink may immediately come to mind, you can also choose hues like chiffon yellow, robin egg blue, or seafoam green. Pair your pick with neutrals to create a captivatingly sophisticated vibe.
Summer
Summer is one of the hottest seasons for weddings, and you can keep the sizzling ambiance alive with a vibrant color scheme. Jewel tones are a stunning option for summer weddings, with a bright energy that matches the season's intensity. Choices here include passionate purple, magnificent magenta, and enriching emerald green. Jewel tones are forever dramatic and bold, with a deeply vibrant edge.
Choosing your seasonal wedding colors is the first step in creating a gorgeous backdrop for your big event. Selecting the table settings, flowers, wedding stationery, and other elements to create your backdrop is the next step. Yes, your bridesmaids' dresses are part of the equation, and no, they never have to be lime green!
Head to PaperDirect today to shop wedding invites, menu cards, place cards, and even vinyl banners for your most important day.