When to Plan Your Company Holiday Party
Christmas & Holiday Party Tips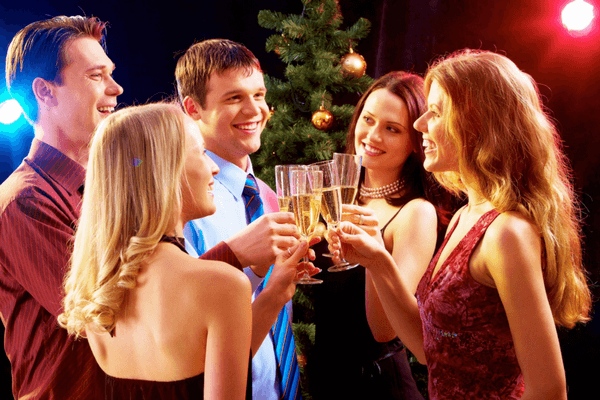 It's never too early to get the ball rolling on planning a company holiday party, especially if you host it off-site and incorporate vendors like catering and entertainment. Planning early means you'll have less stress as the holidays roll around. Here's our guide to planning the perfect holiday bash for your office!
When to Start Planning
Large companies that host parties for hundreds, or thousands, of employees work on some aspects of planning all year long if they have well-known entertainers on their wish list or are creating catering menus complete with signature drinks.
If you fit into this category and haven't lifted a finger yet, it's OK. You have options! Start calling venues you hope to reserve and ask if they've had any winter-season cancellations.
Remember, it's not uncommon for retail-focused businesses to host their annual company holiday party in January or February so they can get through their busiest season efficiently, then unwind with a party! Use that date flexibility to your advantage.
When to Host the Party
Company parties are as unique as your business. Some are small dinner get-togethers on a Friday night to wrap up the work week on a festive note, while other parties are celebrated on a weekend so children and significant others can join in on the fun.
If your business operates 24/7, with various locations, be mindful of your staffing and plan to shut down operations for a day (or host two parties) so everyone has a chance to attend. The last thing you want to do is make anyone feel excluded from an office event.
Time of day is also important! If you plan to keep the celebration at your work location and only for staff, scheduling the party during business hours (and pausing work duties) is common. However, if you're planning something more along the lines of a pizza and bowling party that encourages family members to attend, a Saturday afternoon or evening is best!
What You Need to Do
So, now you're in full-on party mode! Before you can hit the dance floor or belt out your version of Rudolph the Red-Nose Reindeer on karaoke, you have to do a little bit of planning. We've put together a comprehensive road map of exactly what should happen next, including creating a budget and buying gifts for the attendees. Use our holiday party checklist to make sure you cover everything in your planning!
As you work through each step, don't forget to order your party invitations and annual awards certificates! PaperDirect can ship your stationery directly to the office so you can check yet another thing off the party planning to-do list.