10 Fun Volunteer Appreciation Ideas
Recognition & Motivation Ideas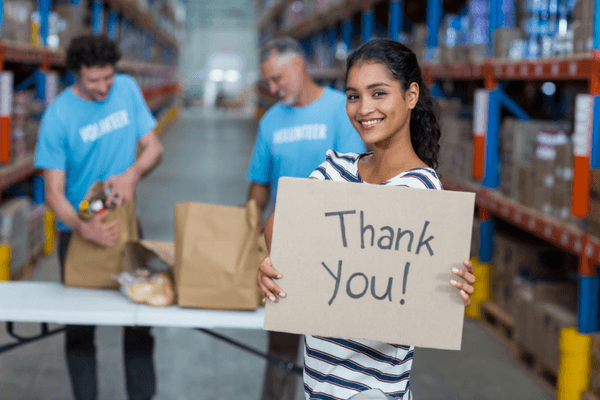 If your business uses volunteers to get by, it's crucial that your volunteers feel appreciated. Anybody who is willing and able to donate their time and energy to a cause without receiving anything in return does, in fact, deserve something in return!
There's no end to the certificates and awards you can use to show a volunteer that you appreciate their time and dedication. If you want to show them a little extra appreciation, one of these fun volunteer appreciation ideas will do the trick!
1. Free breakfast
The best way to start off any celebration is always free food — especially a volunteer recognition award ceremony. It's small, subtle, and affordable, but coming into the workspace to find a box of donuts and coffee makes your volunteer's day start off a little brighter.
2. Recognize your volunteers in front of the whole company
Referring to your volunteers by name and talking about their specific contributions to your company or endeavor in front of the whole group is a wonderful way to make sure your volunteers feel valued. Since they're giving their time away for free, there are few things more encouraging than being recognized for their hard work.
3. Personal letters of appreciation
While public recognition is enough to make most people giddy, a fantastic addition to your volunteer recognition program is making sure each volunteer gets tangible, personal recognition. Whether it's a card from a boss talking about why that specific volunteer makes a difference, or a letter acknowledging their hard work, you can't go wrong.
4. A token gift with the company logo
Volunteers can sometimes end up feeling as though they're playing second fiddle to paid employees, so giving your volunteers a small gift featuring the company logo. A small gift showing off the organization they dedicate their time to can make a volunteer feel like they're part of the team.
5. Praise them on social media
No matter who you are, we all get excited when someone tags us in something on Facebook or Instagram. Use your company's social media to post photos of your volunteers in action, and add a note about how much they mean and what great work they do.
6. Free lunch
If your volunteers are working throughout the day, nothing shows your appreciation like a free lunch (and a break from hard work). Whether you spring for pizza or order sandwiches, your volunteers will know that their hard work isn't going unnoticed.
7. Host an award ceremony
Whether it happens over free lunch, or free breakfast, or at the end of the day, give your volunteers a superlative, emblazoned on an eye-catching certificate! Tell each one what they bring to your company or group that's so special. But if you're going to do this…
8. Make sure they have time away from their responsibilities
If your volunteers are often hard at work, make sure that they have time to sit back and appreciate being appreciated. Nothing can take the fun out of a fun company gathering like having to run out in the middle of a speech about how great you are to answer a phone. Make sure your volunteers can relax and enjoy being recognized!
9. Plan a social outing
If celebrating in the office isn't possible — or you'd rather do something else — invite your volunteers to an event outside of the office. Have a company picnic or just get everybody together for some fun, social drinks after work so that your volunteers know that they're part of the family.
10. Ask your volunteers about their experience with your company
The best sign of appreciation? Caring about somebody's opinion. Be sure to sit down with your volunteers and discuss their experiences with your company. Do they feel they're adequately supported? Do they have a suggestion to improve the effectiveness of certain tasks? If anybody knows how to make volunteers feel happy, supported, and appreciated — it's the volunteers themselves!
No matter which of these volunteer appreciation ideas you choose, you'll find your volunteers will be thankful for your acknowledgment of their hard work and will leave ready to help your organization make a difference! For certificates, awards, and more to help show your thanks to your volunteers, shop PaperDirect today.